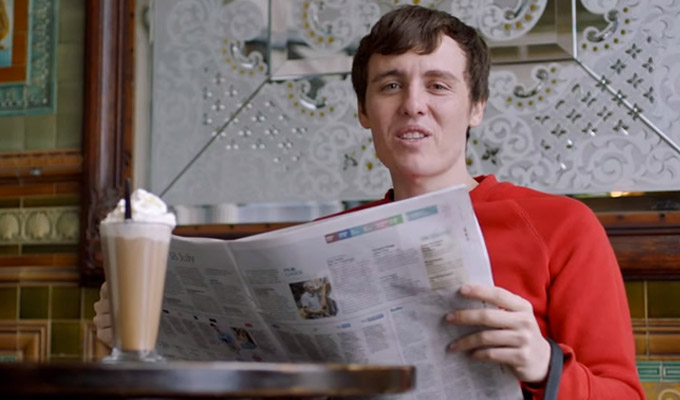 Blappy Christmas
Channel 4 has quietly released a new series of Comedy Blap pilots, featuring the likes of Jonny Pelham, Sam Campbell and Marek Larwood.
The strand of online shorts has previously spawned such shows as Chewing Gum, Gameface, Stath Lets Flats and Lee & Dean.
Yesterday the broadcaster released six more of the tester shows from emerging comedy talent on its YouTube channel, without any fanfare.
Here are the Blaps, all of which are around 15 minutes long…
Sam Campbell: Get Real Dude
An offbeat sketch show from the quirky winner of Melbourne International Comedy Festival's Barry award. An impressive roster of co-stars include David O'Doherty, Jamie Demetriou, Arnab Chanda, Annie McGrath, Mark Silcox, Charlotte Ritchie - and a CGI alien.
Brad Boyz
Written by comic Jonny Pelham and loosely based on his upbringing in Bradford, this sitcom revolves around four childhood pals living in a city reputedly split along racial lines begin college together. It was co-created by Stu Richards and stars Junaid Arshad, Ahmed Elmusrati and Nikhil Parmir as well as Pelham himself.
The Tool
In this comedy, written by Marek Larwood an insufferable worker makes life miserable for the rest of his colleagues played by Ed Easton, Jason Fobes, Divian Ladwa and Maddie Rice.
Thick As
In which Chloe Hodgens plays a small-town troublemaker in Northern Ireland, and Tara Crush her dim-witted sidekick.
Half Breed
A comedy about the only mixed-race kid in the village, 17-year-old Jas, realising she's different. Jas is played by Natasha Marshall, on whose play of the same name the Blap is based.
The Diary of My Broken Vagina
In which playwright and comedian Fran Bushe, (who wrote the show but is played by Gwyneth Keyworth), thinks her vagina might be broken and she's determined to fix it…
Published: 15 Dec 2019
Recent News
What do you think?