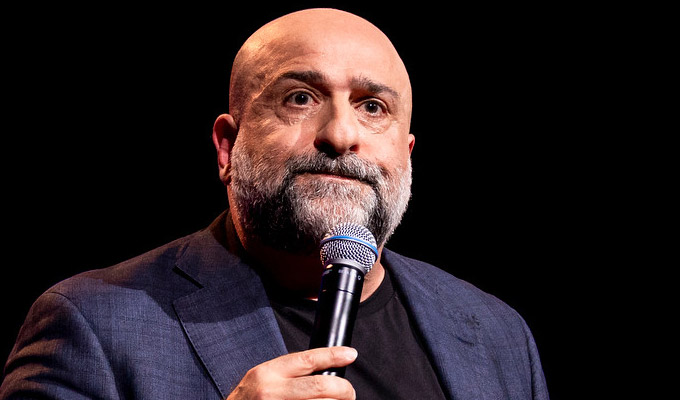 When Omid met TED
The week's comedy on demand...
Omid Djalili at the TED Summit
Not a TED talk, the comic is keen to point out, but a stand-up set recorded at a summit of supporters of the global lecture series. It took place in Edinburgh at the end of July, but Djalili's set was only released online yesterday.
Jack Whitehall: Christmas With My Father
Recorded at the London Palladium, this Netflix special sees Jack and Michael reminisce about family Christmases past, drawing - as always - on the contrast between cheery millennial son and dour, unreconstructed dad.
The slightly ramshackle show also features video inserts with the Queer Eye crew, a guest visit from Hugh Bonneville and a song-and-dance number that might seem familiar to those who've seen Whitehall Jr's most recent tour. Watch on Netflix here
Michelle Wolf: Joke Show
Leaning in to the controversy that's surrounded her ever since she outraged the Trump camp with her White House Correspondents Dinner speech, the outspoken stand-up unleashes a timely state-of-society diatribe, often through the lens of gender.
She makes rape jokes acceptable (by evoking otters), urges calm on social media (as if!) and wonders how the world would be different if men had periods, an old stand-up trope but given a twist, and elevated by her perseverance with the topic. As with many routines, the tautness and the confidence of the writing shines.
Meanwhile her attitude mixes a cheeky flirtation with contentious topics with something a little more political, exemplified by her typically bold material about her abortion. Impactful stuff.
Watch on Netflix here
Podcast: The Musical
Here's a twist to try to stand out in a world oversaturated with comedian-on-comedian podcasts. After interviewing his guests, American stand-up Eric Schwartz transforms their conversation into musical numbers.
First up is Jo Koy, with Schwartz saying: 'This is a truthful and funny conversation punctuated by musical interludes that reveals a lot about us both.' It's available via all the usual podcast outlets, or as a YouTube video:
Published: 14 Dec 2019
What do you think?