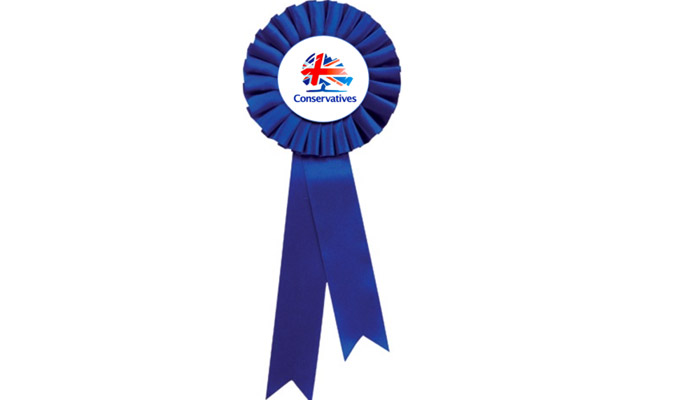 Axed: The comedy club that banned Tory voters
The comedy club that banned anyone who voted Tory from its stage has been axed in the face of an overwhelming backlash.
Comedy-by-Bow, a free weekly open-mic night gig in an East London pub, yesterday vowed that anyone who voted Conservative was 'fundamentally incompatible' with its values and would not be welcome to perform.
However, following a barrage of criticism, the bar has pulled the plug on the night.
Promoter Mark O'Neil has also issued a remorseful apology for his initial comments, made the morning after the shock Tory landslide.
He wrote on Facebook: 'The views I expressed on the Comedy-by-Bow page were the result of a severe momentary and emotional lapse in judgement. It was out of order and unacceptable and brought shame to the craft of standup comedy which should rightly be for everyone.
'I have no excuse. It was my opinion and mine alone at the time and I have taken time to reflect on why I felt that way. Doubling down on it with attempted jokes afterwards was also a very misguided idea. I made a mistake, and I hope you can realise that I am sorry for that mistake, which is why I will be leaving the original posts for anyone to take full context.
'With time to reflect I realise the heinousness of what I said and why it should never have been said. I will be taking the feedback as a learning exercise to better myself and grow as a person.
'I am truly sorry for any offence I may have committed. At this time division is not what we need, but to come together with our differences and listen to each other and move together as one.'
O'Neil said that the venue which hosts his events, The Galvanisers Union in Bow, had received abuse following his announcement - even though staff there were as surprised as anybody that he had suddently such a stance without consulting them.
'The venue - who are completely innocent in this - and I have parted ways,' he told Chortle.
The promoter, who also hosts the nights, had signalled his new policy on a Facebook post on Friday.
It said: 'Comedy-by-Bow used to be an inclusive comedy night where all were welcome. Tonight that has changed.
'Be aware that if you are a Tory voter you are no longer welcome to perform here. You can have your own "free speech zones" somewhere else, because there will not be a platform for you here.
'Your vote proved that you as a person are fundamentally incompatible with the values of the night and the values of those running it. You are not welcome here.'
He later added: 'The values of the night are of tolerance, support, and inclusiveness. If you put your cross next to the Conservative box you have proven that you do not hold those values and you are not welcome here.'
The post attracted hundred of comments, overwhelmingly critical of his ban, which did not extend to audience members,
Published: 14 Dec 2019
What do you think?