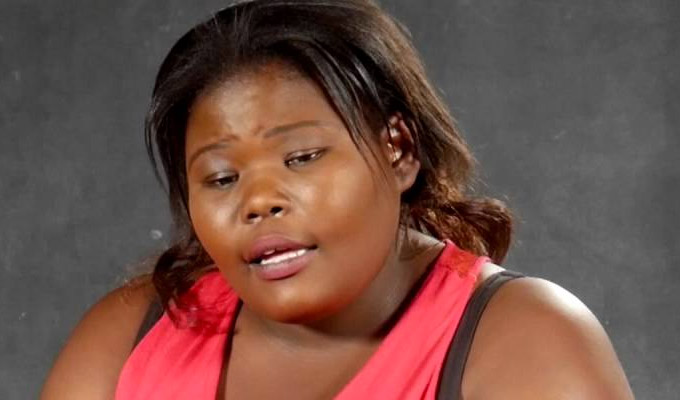 Tortured for telling jokes
A comedian has told how she was abducted, stripped naked, beaten and tortured for mocking the Zimbabwean government.
Samantha Kureya says three masked gunmen burst into her bedroom in August, saying they were police.
She told South Africa's Mail & Guardian newspaper how they bundled her into a car, shoved her head in the footwell so she could not see where she was being driven, and took her to a sewage facility
'They ordered me to sit in sewage water,' she said. 'They were saying, "You are too young to mock the government. You are being paid to mock the government.' They started beating me."'
Kureya – who goes by the stage name Gonyeti – said they used their guns to smash a phone she had with her, and forced her to remove her underwear so she was completely naked.'
In an ordeal which Kureya said felt like hours, her tormentors made her crawl in the sewage, gargle with it and submerge her head in it before making the chilling threat: 'If you report this we won't hesitate to put a bullet in your mother's head.'
Kureya has since stayed away from home for her safety and although she has filed a police report, no progress has been made.
She was targeted for the satirical online videos she makes for a local company called Bustop TV, and last month she was won an award 'for standing up against repression and abuse of human rights in Zimbabwe'
The Southern Africa Human Rights Defenders Network said 'Samantha Kureya has been arbitrarily arrested, detained, abducted, beaten, tortured, stripped naked, forced to drink sewage water by suspected state agents. She has also received death threats on social media.
'At one point abductors who had ambushed her at her house in Harare told her that they would put a bullet in her mother's scull if she reported the incident.
'Despite all these challenges and threats, Samantha has continued to use satire to defend the rights of the most marginalised at great personal risk.
We are privileged to honour her and recognise her courage and steadfast commitment to humanity.'
Official Zimbabwe sources have disputed her account, with one reporter for a state-run newspaper claiming the story was 'was stage-managed for political expediency or to raise the stock of the controversial drama queen.'
Despite her ordeal, Kureya has vowed not to be silenced, saying: 'Comedy is my job. It's my life.'
Published: 4 Dec 2019
Recent News
What do you think?