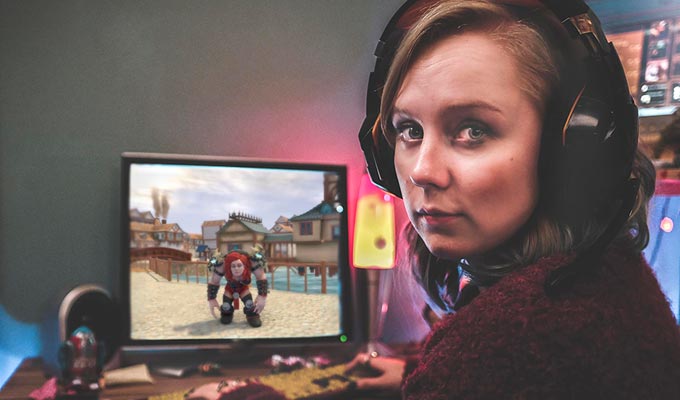 'Dead Pixels ripped off my script'
A former comedy writer has accused Channel 4 of 'ripping off' his script for gaming sitcom Dead Pixels.
Computer journalist Stuart Sumner says he was 'shocked' at similarities between the E4 comedy and his sitcom treatment, Real Life, and is now seeking legal advice.
Channel 4 commissioned a pilot from him and production company RDF Television eight years ago, but the broadcaster finally decided not to go any further in 2012.
Both Dead Pixels and Real Life focus on a small group of socially awkward gamers obsessively dedicated to a fantasy role-playing game, and the interaction between their real and online lives.
Both Channel 4 and Dead Pixels' producers strenuously deny any suggestion their show was plagiarised,
But Sumner says there are a number of similarities.
In Real Life's pilot script, the lead male and female characters, Max and Liz, have their avatars marry in the game Golden Realm, ostensibly for fun. But call centre worker Max struggles to hide his attraction to Liz in real life.
Similarly, in episode three of Dead Pixels, Nicky (Will Merrick) and Meg (Alexa Davies) get married in the world of Kingdom Scrolls, with the pair's unresolved sexual tension exacerbated by call centre worker Nicky's jealousy of another gamer Meg has in-game sex with.
In Real Life, Trudy neglects her young children and spouse to spend long hours in the game, as does Dead Pixels's Usman (Sargon Yelda). Both are ultimately issued an ultimatum by their partner and reluctantly prepare to quit gaming.
Both shows also feature a naive idiot who fails to understand the games' conventions and objectives but buys add-ons for it anyway – and are patronised and bullied by the rest of the group. In Real Life the character is called Graham, in Dead Pixels he's Russell (David Munemi).
And both comedies also feature the groups' in-game bases being taken over by a rival group of gamers.
Production is currently under way on a second series of Dead Pixels, which is written by Fresh Meat's Jon Brown, and made by Various Artists, the production company set up by Peep Show creators Sam Bain and Jesse Armstrong.
Sumner said he was unaware of the sitcom when it aired earlier this year. However, he watched it recently on the advice of a friend and told Chortle he was 'was pretty shocked at the similarities'.
'I had six main characters [rather than five]. But three of them are pretty identical to three of their main characters.
'I can understand that someone can come up with the same idea of people in an online game, making a series of that. Having it half-set in the real world, half-set in the game, with all of those similarities, I could have let one of those things go. But just the fact it feels so utterly ripped off, it does make me feel terrible.
'There's been a good amount of time between them. Perhaps it was an idea that was in the back of their heads and they just forgot where it came from and thought it was their own. Or they thought it's been long enough that he'll never notice.
'I'd been thinking I should resurrect [Real Life]. I really like the script and put a lot of work into it back in the day, it's an interesting idea.
'But now I've realised that it doesn't matter how good the script is. In a post-Dead Pixels world, no-one's going to commission this because it's effectively been done.'
RDF took Real Life to Channel 4 in 2011, where it 'went through various commissioning rounds, got to the stage where we had actors lined up to be in the show, we had contracts out' Sumner added.
'Up to that point I'd had bits and pieces on TV and quite a few sitcoms produced on radio. But this was, as I saw it, the big break into TV. At the last minute Channel 4 decided to pull the plug, so we never quite got to sign the contract. That was fine though, that happens in TV.
'To be fair they're pitched an awful lot of material they don't commission. But in this case the script went through lots of commissioning rounds, so lots of people at Channel 4, right up to the senior commissioning people, would have seen it … I never met any of them, that was all handled by RDF.
'RDF told me that Real Life went through to the final commissioning round, where it was considered against another sitcom, and it was the other one that was commissioned.
'From memory, I think the feeling was that the world wasn't quite ready to accept a sitcom about people playing an online game. Evidently they feel the world is now ready.'
Sumner is currently taking legal advice.
A spokesperson for Channel 4 and Various Artists told Chortle: 'No complaint has been made directly to Channel 4 or to Various Artists to date.
'Dead Pixels is and was independently conceived and produced and any allegation that the programme copied any other project is wholly denied.'
- by Jay Richardson
Published: 2 Dec 2019
What do you think?