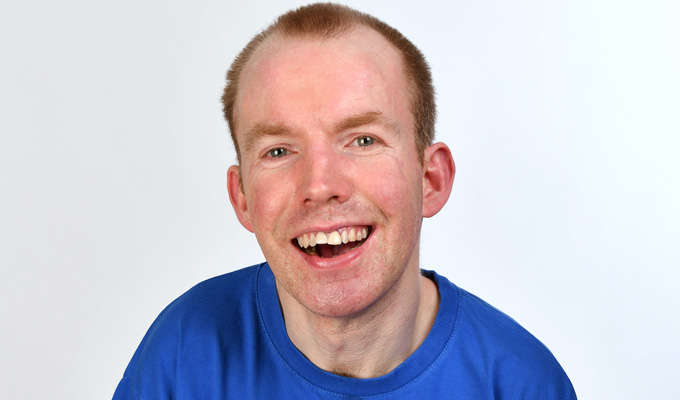 Lost Voice Guy named hardest-working comedian
Lost Voice Guy has been named the hardest-working comedian of the year.
The former Britain's Got Talent winner – real name Lee Ridley – won the accolade based on the number of venues he has performed at over the year.
He said: 'I've honestly lost count of the number of shows I have done now, but it's really nice that all the hard work and travelling around the country has been recognised.'
Listings website Ents24, which compiled the list, also gave a special mention to Gary Delaney, the only comedian to appear in the top 20 list for each of the past five years.
The full top 20 is:
1. Lee Ridley (Lost Voice Guy)
2. Ivo Graham ;
3. Jimmy Carr
5. Stewart Francis - "5th hardest working comedian is slightly misleading as I was flaccid for several of those shows"
6. Gary Delaney - "I'm honoured to be an ever-present in this list, although slightly disappointed this is my first time slipping out of the top 5. I really shouldn't have taken that afternoon off."
7. Russell Kane
8. James Acaster - "I'm way too busy to give you a quote"
9. Scott Bennett - "I am honoured to receive this accolade, but I'd like to share it with my wife and children who I abandon every weekend to go and chase a dream and my trusty Kia Sportswagon that helps take me there. I am currently pulled over in a truck stop on the side of the A1 raising a flask of Douwe Egberts in honour of this rather wonderful award" (Other brands of car and coffee are available, but this is my attempt at some sort of sponsorship deal)
10. Ed Gamble - " It feels great to have my status as the 10th most grizzled road dog finally recognised. It's a hard life out there on tour - sometimes the service stations don't have an M&S and I have to settle for a Waitrose. It's just me, the open road, my tour manager and my tour manager's car. What a hard-working guy I am."
11. Sindhu Vee
12. Mark Watson
13. Laura Lexx - "Playing gigs is no hardship at all, it's been an absolute pleasure (except for the buses, trains, motorways and taxis part).'
14. Glenn Moore - "I'm delighted to be included in this list of hardest working comedians. Next year I aim to up the work-rate, with double the number of gigs (just shy of 9).'
15. Justin Moorhouse
16. Suzi Ruffell
17. Robert White
18. Josh Widdicombe
19. Ben Elton
20. Stephen Bailey - "This makes all the driving to gigs in Hull worth it! Next year I'll aim to work harder to get top 5'
The methodolgy has been criticised in previous years for overlooking club comics in favour of touring acts likely to be listed on the website. Previous winners were Patrick Monahan (2015), Romesh Ranganathan (2016), Gary Delaney (2017), and Jason Manford (2018)
Published: 2 Dec 2019
Recent News
What do you think?