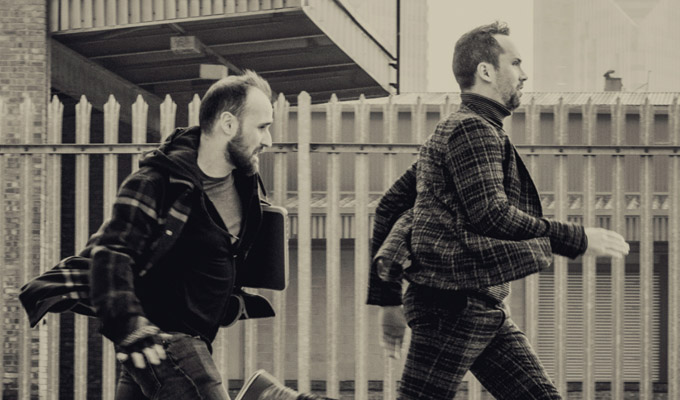 On the run from Big Data
The week's comedy on demand
Max & Ivan: Fugitives
An eight-part comedy thriller, this podcast features Max Olesker and Ivan Gonzalez as two lowly tech developers who acquire a laptop full of contraband data, witness a murder, and then narrowly escape being assassinated.
It all started when an office prank goes wrong, and they get dragged into a world of state-funded disinformation campaigns, bot farms, all-knowing Big Data organisations, and shadowy terror groups.
The pair also wrote the show and star alongside a cast of comedy A-listers, including Gemma Whelan, Alice Lowe, Adam Buxton, Stephen Mangan, Kyle Kinane, and many more.
The first three episodes were released on Thursday and further episodes will go out weekly on Thursdays. You can find it in all the usual places or here.
The Paddock
If you missed Channel 4's live-stream of 24 new-wave comedy acts on Thursday night, never fear the full 100-minute extravaganza is still up on YouTube.
Those taking part included Jordan Brookes, Mat Ewins, The Delightful Sausage, Giant, Ken Cheng, Johnny White Really-Really, and Olga Koch.
Here it is:
Mike Birbiglia: The New One
The master storyteller's latest stand-up special dropped on Netflix this week, though it's normally billed as a 'one-man play'. In it he considers the pros and cons of parenthood, and how life changed once he became a father.
It's one of the oldest of comedy topics, but Birbiglia breaths new life into it, via this thoroughly charming and meticulously constructed show. Watch here and read our review of the stage version here.
In The Name Of Comedy
In The Name of Comedy is a 20-minute documentary about a hoax video.
Brett Eidman was a struggling, unknown comedian, who decided one way to get attention was to release a video of him being attacked while performing. So he staged a video, in which he goads an East Asian couple with offensive racist material until they turn on him.
He didn't really convince anybody but the footage achieved its aim, attracting 10 million hits. Almost all of whom thought Eidman was a racist dick. And, more than seven years on, you still haven't heard of him.
His story is told in this film, just released on Amazon Prime.
Published: 30 Nov 2019
Recent News
What do you think?