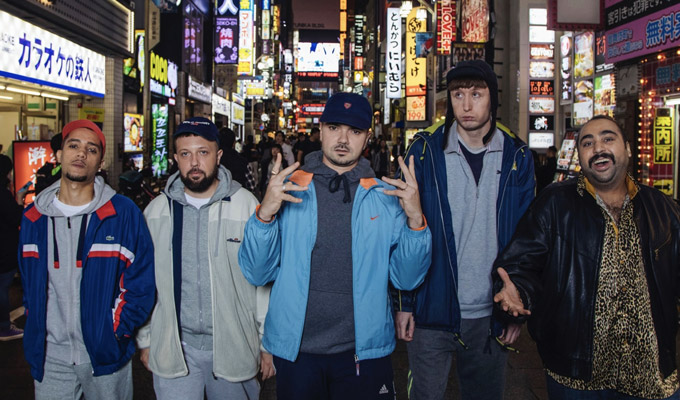 First look at People Just Do Nothing: Big In Japan
Producers of the People Just Do Nothing movie have release the first official photograph of the Kurupt FM team filming in Japan.
Chortle reported a month ago that Steve Stamp, Allan Mustafa, Hugo Chegwin , Asim Chaudhry and Dan Sylvester were shooting the film in Tokyo.
The plot is that although life has been quiet for the Kurupt FM boys since their pirate radio station closed down, they discover that one of their songs has been used on a popular game show in Japan. So, under the guidance of their manager Chabuddy G, Grindah, Beats, Steves and Decoy head there to live out their dreams of fame.
In character, MC Grindah said: 'Japan is the most advanced city in the world so it makes perfect sense that they would recognise our lyrical talent. We can't wait to go over there and completely destroy the music scene. In a good way.
Chabuddy G said: 'You know me, I can sell anything mate. Ice to an Eskimo, halal meat to a racist vegan... selling garage music to Japan is water off a duck's beak mate.'
The film, entitled People Just Do Nothing: Big In Japan will be released in cinemas across the UK and Ireland in August next year. It is the first BBC Three series to be developed into a feature film.
Made by Roughcut, it also stars Lily Brazier as Miche, Hitomi Souno as Miki and Ken Yamamura as Taka.
Published: 28 Nov 2019
What do you think?