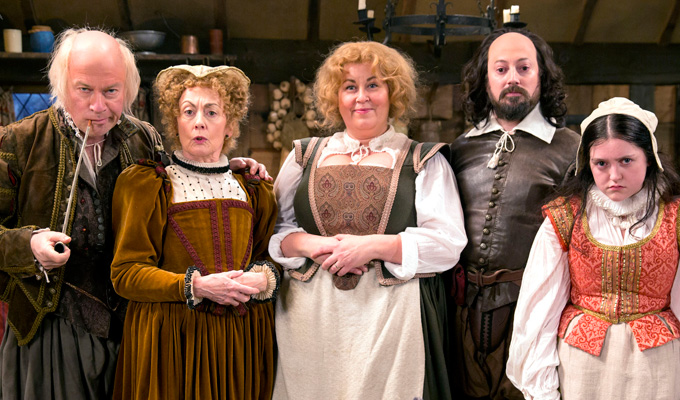 West End cast of Upstart Crow announced
Upstart Crow stars Helen Monks, Rob Rouse, Steve Speirs and Mark Heap will all be taking part in the West End version of the sitcom, it has been announced today.
The first three will be reprising their roles from the BBC Two comedy as Susanna, Bottom and Burbage respectively.
While Mark Heap, who TV viewers will know as Robert Greene, will play a new character, Dr John Hall.
David Mitchell is making his West End debut in the role of William Shakespeare, and it was previously announced that Gemma Whelan would be reprising her role as Kate.
Writer Ben Elton said: 'Besides Will and Kate many of the other characters from the TV sitcom feature in this new play and I'm delighted that they will all be played by the original actors.
'Steve Speirs returns as Burbage the actor, no doubt relishing the extra opportunity that live theatre offers for serious shouting and strutting. Hilarious Helen Monks is back as Shakespeare's grumpy daughter Susanna. Top comic Rob Rouse will once again have us laughing at his Bottom and the show-stopping Mark Heap who played Robert Greene is returned in villainous guise.
'Gotta say, the brilliant new actors who are joining Upstart Crow for the first time will have to really pull up their puffling pants if they don't want to get upstaged.'
Also joining the cast are Danielle Phillips, Jason Callender and Rachel Summers .
The show, directed by Sean Foley, opens at the Gielgud Theatre on February 7.
Published: 26 Nov 2019
What do you think?