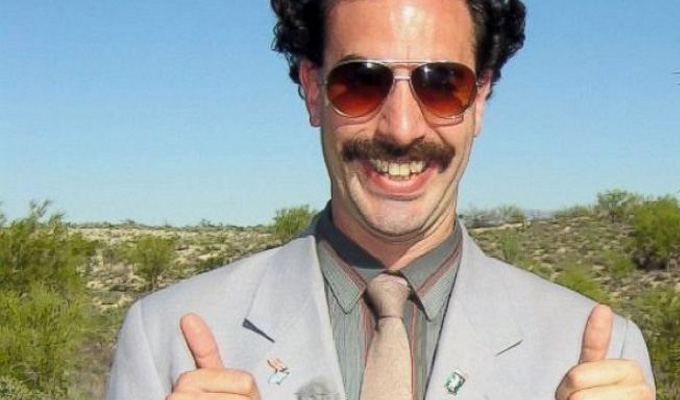 Sacha Baron Cohen gets an award for fighting racism
He's previously been accused of exploiting racist tropes – but now Sacha Baron Cohen is to receive an award for using comedy to expose prejudice.
The creator of Ali G and Borat will today be honoured by the Anti-Defamation League for his work that the group says 'brilliantly uses satire to expose racism, Islamophobia and anti-Semitism'.
It marks a major turnaround for the campaigners, who have a long history of condemning Baron Cohen.
After the comedian persuaded a bar full of Americans to sing along with Throw The Jew Down The Well in Borat's Guide to the USA in 2004, the group's director Abe Foxman said: 'We are concerned that the irony may have been lost on some of the audience, or worse still that they simply accepted Borat's statements about Jews at face value.'
Two years later, when the Borat film came out, the group expressed concerns that the audience may 'not always be sophisticated enough to get the joke, and some may even find it reinforcing their bigotry'.
In 2014, Foxman again said that Baron Cohen's humour reinforced stereotypes – but his successor, Jonathan Greenblatt, has taken a different view.
Announcing that Baron Cohen will receive the group's International Leadership Award at its annual summit in New York, Greenblatt said: 'Sacha's fictional satirical characters have made us laugh at the kinds of hatred and prejudice that under normal circumstances would be no laughing matter.
'There's many ways to combat prejudice, and anti-bias education, exposure and awareness are important tools.
'But there are other, more unorthodox ways to fight hate. Sacha's hilarious characters fall into that latter category. They push envelopes. They cross boundaries. They evoke stereotypes and tropes, but for comedic effect. In the end they help to expose how common prejudices are in our society and our world.'
Baron Cohen was most recently in the acclaimed Netflix series The Spy, which tells the true story of Israeli espionage agent Eli Cohen. And last year he created the satirical TV show Who Is America? which duped many public figures into making dubious statements.
But he has long been accused of blurring the line between ironic racism and the real thing. When he first come to prominence as Ali G, the comedian was criticised by some for adopting elements of black youth culture.
And when the Borat movie came out in 2006, Erlan Idrissov, Kazakhstan's ambassador to the UK, branded him racist and slanderous.
Published: 21 Nov 2019
What do you think?