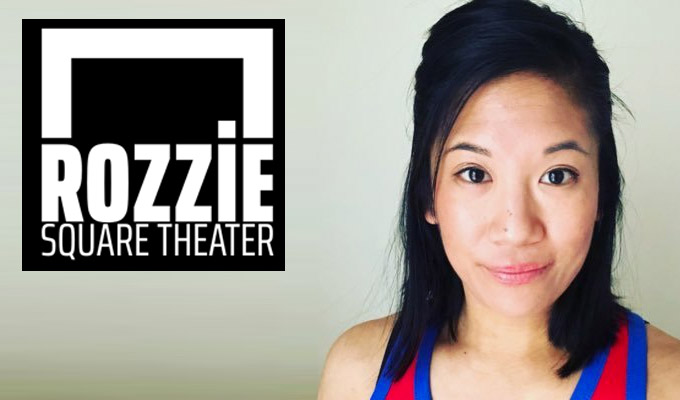 Comedian shuts down show at her own club over sexist jokes
A comedian shut down her own comedy club midway through a show after becoming sick of the barrage of sexist jokes from the stage.
Courtney Pong interrupted one stand-up's set to apologise for the gags that had been told, and pulled the rest of the evening, sending the audience home.
Her stance has divided opinion, with supporters praising her for speaking out – and critics slating her for attacking free speech.
Pong, a veteran improviser in Massachusetts, revealed the incident on Twitter.
She wrote: 'Tonight I shut down a string of misogynistic stand up comics. As in, I walked on stage in the middle of one of them talking, addressed the audience, offered a full refund, told them it would not be tolerated here, and pulled the show and its comics from our theater immediately. Lights on, go home I have never felt more alive than right now.'
and its comics from our theater immediately. Lights on, go home.

I have never felt more alive than right now.

— Courtney Pong (@CourtneyPong) 16 November 2019
Friday night's show at Boston's Rozzie Square Theater had attracted an all-male audience. There were only four paying customers in the venue, and about a dozen friends of acts.
Pong says she was first felt uncomfortable when the MC cracked a joke about the 'segregated' audience, with just two black men there.
She said she listened to about 40 minutes of 'this bitch' jokes and finally snapped when one comic joked that he was fired from Uber for making women customers ride in the boot.
According to local website Universal Hub, she rang a bell to interrupt the show and told the audience: 'It's not OK, and it's not who we are.'
She told the website she didn't want comedians punching down with 'old and tired' domestic-violence jokes on her night, adding: 'No woman in the world would have wanted to stand in that room last night.'
Comments praising her on social media included:
'Amazing. These days you rarely see folks standing up for people over profit, so what you did was HUGE, unexpected and sadly unusual'
'Wow! That took some guts! I'm going to call it right now: The club's business improves. It's way too easy to rely on hate gags. You'll attract much better comedy now, and the people will love it!'
'Rock. On. Stopping that nonsense in the moment is -so much- more powerful than waiting. Not everyone can do that, and no one owes that to the world. Three cheers to you for doing it when you could!'
'Hey one of my worst public experiences was at a comedy show. No one stood up but me and another girl who were promptly violently threatened for the remainder of the show. She left; I had to stay for extra credit for class…Feel like I regained a little bit of my power just reading this. Truly, a boss bitch move.'
'I love it when people don't understand that a woman doesn't have to sit and take it while a bunch of unfunny comedians make sexist jokes in the club she owns. They bit the hand that fed them, then cried foul when they were told they couldn't do it anymore.'
But not everyone was happy, with critics accused her of being on a 'power trip', or saying she was doing 'the opposite of supporting art and theatre.'
One commentator told her that he fact she got a buzz from her actions was 'the problem', adding: 'You're actually feeling empowered by this! Instead of enjoying a comedy show, and taking what they're saying AS JOKES, you're getting a power trip on "shutting down a show"... which the only people you hurt were the audience!'
Another said: 'I'm a very liberal person and find this censorship and de-platforming come from my side of the aisle gross, especially in comedy. In a free society we need to be free to express ideas. All ideas. Not just the ones agreed upon.'
Some said she was right to put on whatever sort of show she wanted, but questioned why she hadn't vetted the comics beforehand. One Twitter user said: 'If you have rules about comedy then you either make yourself aware of the type of material comics use or make them aware of the rules beforehand.'
The Rozzie Square Theatre is home to ComedySportz Boston, of which Pong is the general manager.
Published: 18 Nov 2019
Recent News
What do you think?