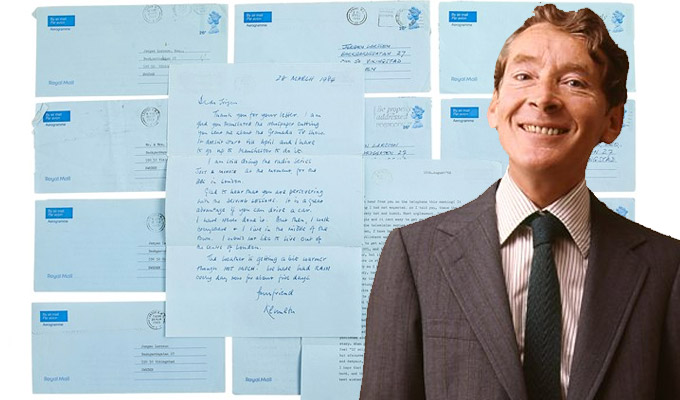 Kenneth Williams' letters go under the hammer
Previously unseen letters from Kenneth Williams are to go under the hammer next week.
In the correspondence, his cutting judgment is on display as he describes miners' leader Arthur Scargill as an 'idiot' and says the plays of Alan Ayckbourn are 'rubbish.
He also recalled being Richard Burton's understudy – but failing to learn the lines so he could not step in when the actor fell ill.
Writing about going back over his diaries, he said: 'I was reading the account of my time at the Grand Theatre in Swansea when I was understudy to Richard Burton.
'One day I arrived at the theatre and they told me he was ill and that I would have to go on and play his part in The Seagull but I rushed to his room and begged him to go on, even if he did feel ill, and told him 'I have never learned the lines' so he kindly helped me out, and I didn't have to go on'
The 17 letters – handwritten and typed between October 1983 and May 1985 – also show a more compassionate side to the Carry On star.
Writing about the suicide of Welsh actress Rachael Roberts, he said: 'Oh it is such a sad story. When people we know, take their own lives, we always feel If only I could have been there to talk them out of it but of course it can never be. It is to do with desperation and despair, and circumstances beyond the control of friends.'
The paragraph has special significance given Williams own probable suicide on April 15, 1988.
All the letters were written to a young Swedish man met outside his nation's embassy in London.
The visitor and a travelling companion had run out of money so had sought help at the embassy – only to find it was closed.
Williams struck up a conversation and took pity on the pair, put them both up in a hotel indefinitely, lent them money and arranged for their onward travel.
The young man's exuberant letter of thanks led to a reply, and several years of mutual correspondence.
Now the letters are is going under the hammer along with a first edition of the comedian's 1985 autobigoraphy Just Williams.
Bloomsbury Auctions, which is selling the items in London next Wednesday, has put an estimate of £600 to £800 on the lot. Bid here.
Published: 7 Nov 2019
What do you think?