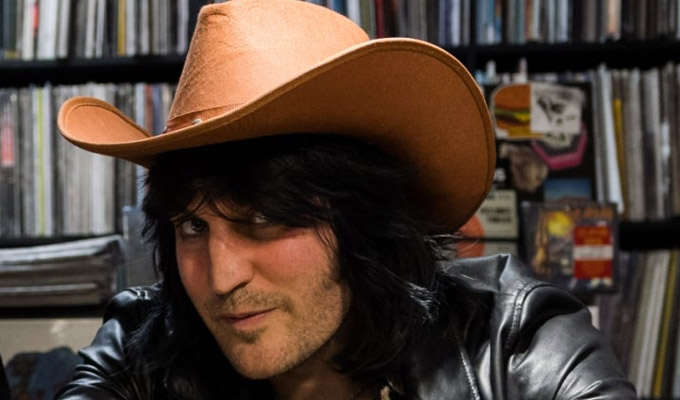 Netflix series for Noel Fielding
Noel Fielding is to make a Netflix series about a magic record player.
The Mighty Boosh star explained the idea to Lauren Laverne on her BBC 6 Music show this morning: 'Basically a guy gets hold of a magic record player and when you put the record player on a portal appears and you can go inside your favourite albums.
'I haven't written it yet. I pitched it and Netflix liked it and we're making it, but I haven't started writing it yet. So that's my next thing.'
Art school graduate Fielding said the project was the one thing he wanted to do on television before devoting himself full-time to painting.
'So I have to get my art hat off and put my writing hat back on, which I don't even know where it is,' he said. 'It could be under the bed. Probably [his daughter] Dali's taken it somewhere, it's in a toy box.'
Elaborating on the series' style, he added: 'It's a good concept but how I write it, I could come at it from many different angles and I'm trying to work out the best way.'
The six-part series is being co-written by Matt Haydock, creator of the cult comedy phenomenon Gus The Fox. And Chortle understands the pair have been writing it for a year.
Gus The Fox has around 100,000 followers on Twitter and was the 'agony fox' for Shortlist magazine. Fielding wrote the introduction to his 2013 book.
The Great British Bake Off host is a fan of vinyl records, and has released a comedy album on LP.
Earlier this year he reunited with Julian Barrett as ambassadors for Record Store Day. Their first Mighty Boosh outing for five years came as their debut radio series was released on vinyl for the first time.
At the time Fielding said that you could learn a lot from somebody's record collection. 'If you were on a date or you'd just met someone, you could have a peek at their collection and think "Oh, this isn't going to work",' he said.
He was on 6 Music to promote his Halloween-themed art exhibition, which has just opened at the Don't Walk Walk Gallery in Deal, Kent.
- by Jay Richardson
Published: 7 Nov 2019
What do you think?