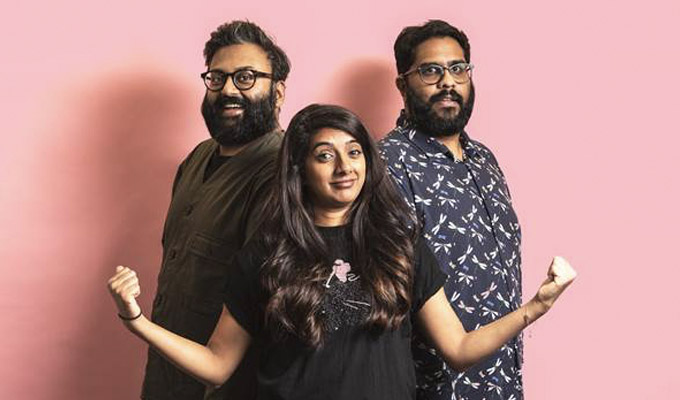 Digging for roots
The week's best comedy on demand.
But... Where Are You Really From?
This new podcast for the BBC Asian Network invites guests to address the question they are so often asked, but hopefully in a funny and revealing way.
It's hosted by Eshaan Akbar, Sunil Patel and Nim Odedra with fellow comics Sindhu Vee, Kae Kurd and Ahir Shah among those lined up to appear in future episodes. And it kicked off this week with Sadia Azmat.
Listen here
Ed & Joz's Heist Movie
Forget Ocean's 11 and its sequel... in this low-budget heist, Messrs Aczel and Norris plan an ambitious crime – stealing a vending machine – despite their incompetence.
This 17-minute film also features fellow comics Lucy Pearman, Ben Target, Alison Thea-Skot and Michael Stranney and is intended as a pilot for a possible telly pilot.
It was produced by Murder In Successville's Avril Spary, sponsored by Tiger Aspect and directed by Jonathan Brooks
How Do You Cope… With Elis and John
In this new Radio 5 Live podcast, Elis James and John Robins invite people in the public eye to discuss how they cope when times are tough. In the first episode, they talk to author, comedian and former NHS doctor Adam Kay. Listen here.
Tom Neenan Is Not All Men
The Mash Report always aims to be woke – but in this new podcast its head writer mocks his own earnest intentions as a feminist ally and 'one of the good guys, playing an exaggerated version of himself, always over-keen to demonstrate just how much he's on side.
As well as guests designed to underline his liberal credentials, the series also features an ex-girlfriend and a long-suffering producer all trying to cope with his smug ego.
Neenan previously said: 'I feel the last few years have shown how men really need to re-examine themselves and their behaviour. That's why I tried to make comedy from examining the very worst elements of my own personality and presenting them as a comedy character. 'It's cathartic, hilarious and distressing to be able to present this truly abysmal version of myself. This podcast is like looking into a mirror made of pure insecurity.' Listen to epsiode one on BBC Sounds.
Arsenio Hall: Smart & Classy
He might be 63, with a comedy career that dates from the early 1980s, but this is the first stand-up special from former talk show king, Arsenio Hall However, it's not going to prove anything like the game-changer his TV show did, with critics branding it a mix of 'easy observations and pop culture references' that are stuck in the 1990s – at best entertaining but offering little in the way of insight or surprise. Watch on Netflix
Published: 2 Nov 2019
What do you think?