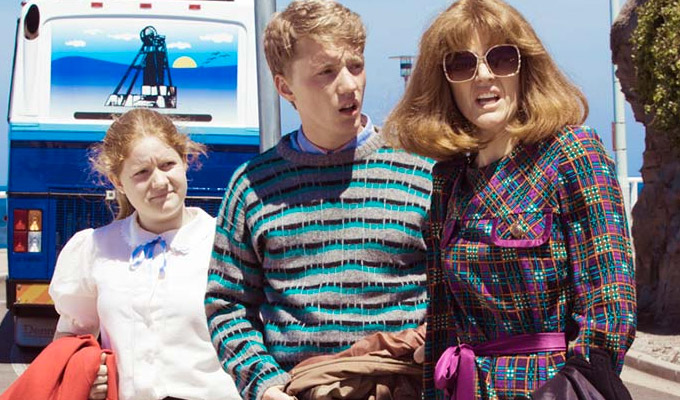 Frayed up for five top Australian TV awards
Sarah Kendall's Sky One comedy Frayed has been shortlisted for five Aacta awards – Australia's equivalent to the Baftas.
As well as best comedy show, it is also up for best sound, best original score, best production design and best costume design.
Kendall wrote on Twitter: 'This is so lovely, huge congrats to the whole gang. I intend to drink heavily, get overly emotional, and possibly physically violent.'
In the comedy, which she also wrote, the comic plays a wealthy London housewife in the 1980s who is forced to return to her home town of Newcastle, New South Wales in after the sudden death of her husband. Frayed is made by Sharon Horgan and Clelia Mountford's production company Merman.
Comic Celia Pacquola has racked up two nominations in the same category: for best actress in a comedy in two separate shows: Rosehaven, set in small town Tasmania, and Utopia, about an urban regeneration agency.
The full list of best comedy nominees are: Frayed, The Letdown, Rosehaven, Sammy J, Utopia
And for best performance in comedy: Alison Bell for The Letdown, Celia Pacquola for Rosehaven, Celia Pacquola for Utopia; Rob Sitch for Utopia and Miranda Tapsell for Get Krack!n
Utopia is also up for best TV screenplay, while The Letdown, about a new mother, is also up for best direction, best production design
Comic Claire Hooper is up for best female presenter for fronting The Great Australian Bake Off; Gruen, the panel show hosted by stand-up Wil Anderson, is nominated for best factual entertainment programme; and Hard Quiz, presented by comedian Tom Gleeson is shortlisted for best entertainment programme.
The awards will be presented on December 4.
Published: 24 Oct 2019
What do you think?