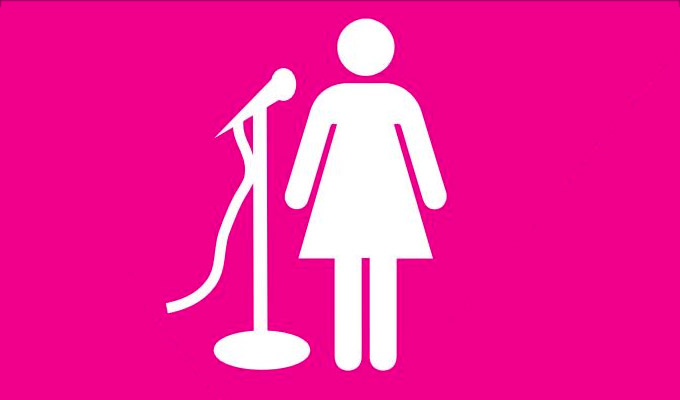 One in three female comics has been sexually harassed on stage
More than one in three female comedians has felt sexually harassed while on stage, and one in six have been followed after a gig.
And harassment is not confined to audiences. More than half of female comics said they've been made to feel 'very uncomfortable' in a green room backstage, and just under half said they have received an inappropriate message from someone in the comedy industry.
Women are also treated differently on a more casual everyday level. More that 85 per cent have been introduced specifically as a 'female comedian' on stage and well over half have been introduced with mention of my looks
The figures were compiled by the Women In Comedy festival, which comes to a close in Manchester tonight. And several of the 61 women who responded also gave first-hand accounts of their experiences, some of which we publish below.
Today's results broadly tally with findings of Chortle study involving more than 300 comedians last year, which found that more than a quarter of female comedians have been molested by their colleagues. Our survey also found that a quarter of women have been molested on their way home from a gig 29 per cent faced physical violence, and 75 per cent had been subjected to verbal sexual harassment.
Last year, the rape and murder of 22-year-old Melbourne stand-up Eurydice Dixon as she made her way home from a gig shocked the comedy world and put an urgent focus on the safety of performers. Jaymes Todd, 20, had stalked her for more than an hour after she left the city centre gig and has been jailed for life.
Previously, cases such as Louis CK's admission that he masturbated in front of colleagues had put the focus on sexually inappropriate behaviour within the comedy industry.
Jessica Toomey one of the producers of the Women In Comedy festival and director of Manchester's Frog and Bucket comedy club, said: 'A number of acts over the last year had raised issues they had experienced within the industry and as I'm not an act I was quite naive to what struggles female comics were experiencing.
'I felt the festival had a duty to look into this and to feed it back. The result that shocked me the most was 16 per cent of acts being followed home from a gig, especially after what happened to Eurydice Dixon.
'I've already reached out to Greater Manchester Police for them to offer and recommend advice and procedures to mitigate risks.
'As well as the survey we also asked if they had experienced misogyny in the industry and an overriding theme was they were very much being booked in the "girl's spot" and were often the only women on the bill.
'It also seemed a lot of MCs were introducing female acts on stage in a degrading manner so sadly women are being set up to fail before they even stepped on stage.
'I have a huge amount of respect for all the women that have broke through in this industry and persevered despite all the challenges they have faced.
Women's expereinces
Here are some of the experiences of the women who took part in the survey:
'A male comedian screamed at me in the middle of the street because I was not interested in sleeping with him. He threatened to "ruin" me.'
'I've been given unsolicited feedback many times by men, specifically telling me that my comedy is too self deprecating, too emotional or too disgusting, comments I rarely hear directed at men.'
'Given unsolicited advice on material I "should" be doing "as a feminist"'
'(BLANK) has stalked me and harassed me continually. He does this frequently and people say "yeah that's just him" he displays the same control patterns seen in abusive men . He turns up where he knows I will be. I had to stop gigging unless someone could come with me.'
'A headliner at a gig told a female student sitting alone that he hoped her friends who'd left before he came on "got raped on the way home".'
'I was sexually assaulted by an act, who went on to psychologically torment me for months and would have physically assaulted me in the street if friends had not literally held him back.'
'The booker for a comedy club tried to get me involved in a prostitution service.'
'Various micro (or nano?) aggressions: acts commenting on my appearance in a lecherous way; "women aren't funny but I like you",'
'Being told that it's ok to book women who are prettier, slimmer and more youthful as "it's the entertainment industry".'
'At a screening of my film, the compere came up to me and my husband and congratulated my husband on his funny film. My husband said "she's actually the funny one." The compere chuckled and then continued to ask my husband about "his" film until he put him right.
'Found out through a wrongly sent email that I was being paid way less for a writing job than another guy doing the exact same work.'
'Once I was introduced: "Now, we haven't got a comedian coming on next, we've got a comedienne. But give her a chance…"
Poll findings
I've been introduced as a female comedian on stage: 85 per cent
I've been introduced with mention of my looks: 57 per cent
I've been followed from a gig: 16 per cent
I've felt sexually harassed at a gig: 38 per cent
I've never been on a mixed bill with more than one woman (exc all-female nights or gigs with more than 7 acts): 15 per cent
I've received an inappropriate message from someone in the industry: 46 per cent
I've been made to feel very uncomfortable in a green room: 56 per cent
ª A few simple steps that could make comedians safer
Published: 13 Oct 2019
What do you think?