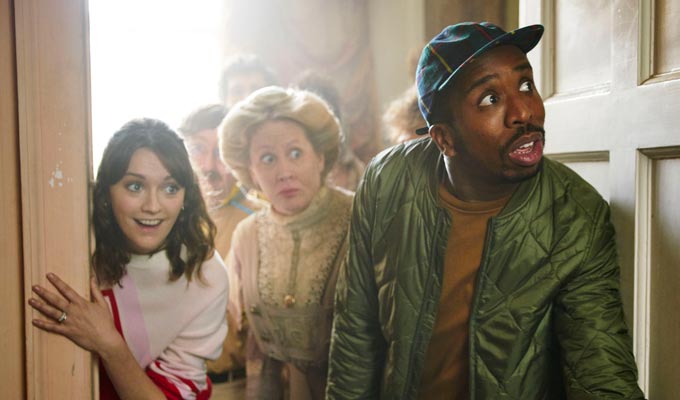 Dead good news! Ghosts gets a THIRD series
The BBC has ordered a third series of its haunted house comedy Ghosts before the second has even aired.
The decision was largely driven by how successful the show proved on catch-up TV, the corporation's director of content has revealed.
Speaking at an event to unveil planned improvements to the iPlayer service yesterday, Charlotte Moore said: 'Ghosts is a brilliant comedy from the Horrible Histories team.
'Episode one got 2.5million overnight - a modest figure for a comedy - but within 28 days it had grown to 5.5million.
'And after six months 1.7m iPlayer requests. That's up there with other big comedy hits. We've commissioned two more series straight away.'
She said the figures proved how 'young audiences especially want to watch both live and on demand and expect shows to be available for longer'.
Ghosts stars Charlotte Ritchie as a young woman who inherits a country house, Button Hall, and finds that only she can see the spirits of former residents who died there.
The second series of the show – created by Mathew Baynton, Simon Farnaby, Martha Howe-Douglas, Jim Howick, Laurence Rickard and Ben Willbond – was announced back in May, when the BBC's head of comedy commissioning, Shane Allen, said: 'Ghosts gave us all a very pleasant shock in landing so fully formed as an instant mainstream hit.'
The creators of the show also star in it, alongside Kiell Smith-Bynoe, Lolly Adefope and Katy Wix.
Rikard today tweeted: 'Huge thanks to Charlotte Moore and all at @BBCOne & BBC Comedy for believing in #Ghosts (so to speak). We can't wait to get haunting again.'
The programme is filmed at West Horsley Place in Surrey, large country house unexpectedly inherited by former University Challenge presenter Bamber Gascoigne in 2014 from his great aunt, the Duchess of Roxburghe.
Critical response to the first series, which aired in April and May, was positive. Michael Hogan in The Daily Telegraph called it a 'deliriously daft supernatural romp,'; Christopher Stevens in the Daily Mail said any resistance to the cornier jokes was overwhelmed by 'a landslide of puns and slapstick that comes so fast you can't possibly catch it all in a single viewing'; and Pat Stacey in the Irish Independent called it 'joyously, infectiously silly, yet at the same time whip-smart'.
Read Chortle's review of the first episode here.
Published: 8 Oct 2019
What do you think?