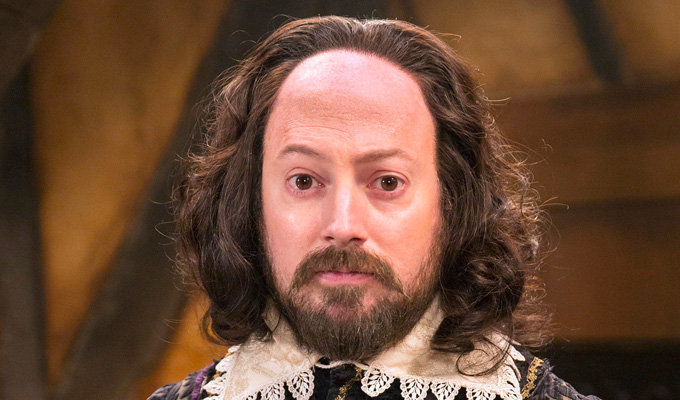 Upstart Crow coming to the West End
Upstart Crow is coming to the stage, with a live version in London's West End.
David Mitchell will reprise his role from the sitcom as William Shakespeare, creator Ben Elton revealed this morning.
It will be the Would I Lie To You? comic's West End debut. He said: 'I'm delighted to have the opportunity to bring history's most famous balding dramatist to the West End via the amazing comic imagination of Ben Elton.
'Theatre-goers can look forward to a comedy steeped in authentic Shakespearean ambience in every way apart from the smell.'
The show will open at the Gielgud Theatre on Shaftesbury Avenue on February 7 with a plot that appears to echo the twins storyline in Twelfth Night.
'It's going live. We're doing a stage version,' Elton revealed on Good Morning Britain. 'It opens next February, tickets on sale today.
'David Mitchell starring in a stage version, as it should be, coming to its natural home because it's obviously a sitcom about Shakespeare and it's a Shakespearean play about two identical twins, it's got all sorts of new stuff in it.'
The play will be set in 1605 as Shakesepeare struggles to produce a hit after the relative flops of Measure for Measure and All's Well That End's Well. The playwright must raise his game or risk King James's wrath.
He desperately needs to come up with a brilliant new plot but is too distracted by family troubles. He's considering dividing all his lands and property between his jealous, squabbling daughters. And, to add to the confusion, two shipwrecked, Moorish, cross-dressing, identical twins have just arrived, separately and unaware of each other, at his door.
Gemma Whelan will also reprise her TV role as aspiring actress Kate, who sees fit to libreate the Globe Theatre's dancing bear in the new production. But there is no news yet on other casting. The play will be directed by Sean Foley, who previously adapted The Ladykillers for the stage with Graham Linehan.
The sitcom co-stars Liza Tarbuck, Harry Enfield, Rob Rouse, Spencer Jones, Mark Heap, Jocelyn Jee Essien and Tim Downie, and has run for three series and two Christmas specials on BBC Two.
Elton – who also wrote the book for the long-running Queen musical We Will Rock You – begins his first UK and Irish stand-up tour for 15 years in Dublin on Friday.
Speaking to the Scottish Sun earlier this month, he was cagey about Upstart Crow potentially returning to television.
'I'd love to do it again. I've had a hit sitcom in four different decades,' he said. 'I'm the Cliff Richard of sitcom writing. It will be back but I don't know if it will be back as a sitcom on the BBC. Certainly not in the immediate future.'
Elton also wrote last year's cinematic Shakespeare biopic All Is True, starring and directed by Kenneth Branagh, which like Upstart Crow focused on the Bard's home life.
His other theatrical excursions include 1990's Gasping, starring Hugh Laurie and the voice of Stephen Fry; Silly Cow, the following year, with Dawn French; and adaptations of his novels Popcorn and Blast From The Past for the stage. In 2000 he worked with Andrew Lloyd Webber on the musical The Beautiful Game, set during The Troubles.
Tickets for Upstart Crow will be available from noon today here.
by Jay Richardson
Published: 25 Sep 2019
Recent News
What do you think?