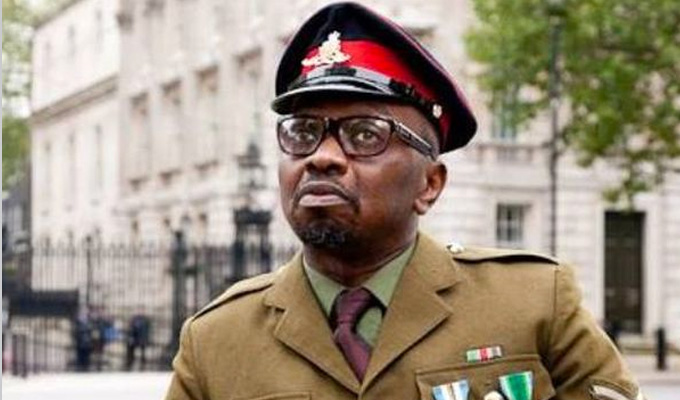 African dictator 'will make £1million' from comedy
The winners of the Malcolm Hardee Awards 2019 have been revealed at the Edinburgh Fringe.
President Obonjo, who hosted the ceremony, was deemed to be the 'act most likely to win a million quid'
Just before the Fringe, Benjamin Bello - who performs as the exiled African dictator – claimed that he BBC Studios had 'stolen his act' for a new E4 pilot in which Samson Kayo plays a despot called Colonel Banjoko Show.
Although the producers insist Banjoko is an original creation, judge Kate Copstick said Bello was likely to make the money because either 'he rightly gets a massive compensation cheque from the contrite BBC Studios and Channel 4; or some broadcaster with morals and an appetite for actual originality will offer him a highly successful series of his own.'
The award for comic originality went to sketch trio Legs - Julia Masli and brothers Robert and Andrew Duncan, whose show at Just The Tonic at The Caves is entirely based on the lower limbs.
Judges said it was 'brilliantly unpredictable… the bee's knees of sketch shows. This one will run and run.'
Character act West End Producer won the Cunning Stunt award for his creative use of quotes on his posters.
They featured five-star reviews appearing to be from well-known critics and producers such as M Billington, L Gardner and A Webber. However, the reviewers mentioned are similarly named members of the public he phoned up, who gave permission for their names to be used. For example, A Webber is Andy Webber, of Bognor Regis, not the Phantom Of The Opera composer.
Judges noted the stunt was 'an audacious subversion of the annual quest for the perfect poster quote - even if the people quoted aren't critics'.
The Malcolm Hardee Awards – handed out in the memory of the comic club-owner and prankster – aim to celebrate 'the spirit of madcap, anything-goes comedy anarchy' at the Fringe.
It ran from 2005 (the year of his death) to 2017 and have been revived this year by the British Comedy Guide, with the blessing of original organiser John Fleming and the Hardee family.
Published: 24 Aug 2019
Recent News
What do you think?