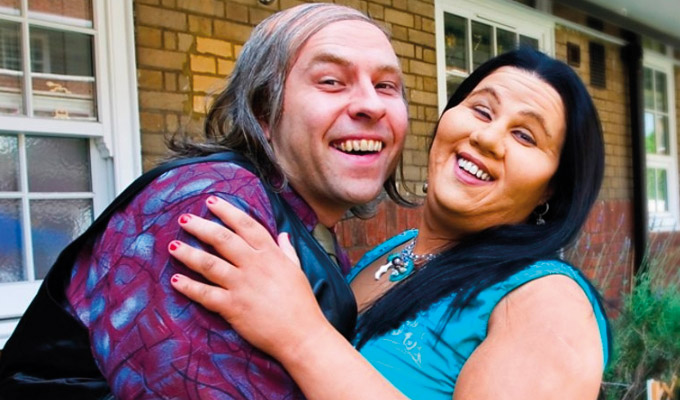 How to avoid offence in comedy – if you want to
Authenticity is the key to avoiding offence in comedy, a panel of TV executives have concluded.
Programme-makers admitted that they used to try to
find ways of sneaking near-the-knuckle gags into their programmes.
But they say that with changing tastes meaning more personal stories being told on screen, they don't feel the need to play that game – especially at a time where offence has become a currency.
The Office producer Ash Atalla told how he, Ricky Gervais and Stephen Merchant used to think up dubious jokes to include in the show, then think of a way of justifying them.
'It's about intellectual rigour when you do those things,' he said during a session at the Edinburgh TV festival. 'Even if you think you are doing something naughty, you have to intellectualise it so when people challenge you you have it worked it out. Whether that's disingenuous or not is another matter.
'We had a lot of meetings about what can we get away with, such as how can we get a joke about a black man's cock onto the BBC. It was a game – how far can you push it? I think we thought we were clever because we had our defences worked out.'
But he said: 'Times have changed. I'm over it. I don't think people are trying to do that so much. It's a different climate. People are more about baring their pain in comedy now.
'The trend right now is pain and authenticity. I went to five shows on the Fringe last night, and they covered rape, paedophilia and cancer - all the greats! All the LOLs.
'Hard comedy, hard jokes, feels old-fashioned because that's not how people talk. It feels dated.'
Channel 4's comedy head, Fiona McDermott said broadcasters shouldn't be shy of potentially controversial comedy.
She said: 'Comedy is a massively useful tool to explain why life's so difficult and challenging. That's what we want it to do. We should be a bit braver about being offensive and take in tough subjects and not be shadowed by this complaints culture.'
Clelia Mountford, who founded independent production house Merman with Sharon Horgan, said they less blatantly offensive comedy didn't mean TV was shying away from difficult topics.
She said their shows, such as Aisling Bea's This Way Up, 'navigate the pain through comedy and through personal experience and we're not sugarcoating that'.
McDermott added: 'If you put comedy characters around big topics, you're allowed to talk about it. The spectrum has changed for the better.
'Most things we make are writer/performer led, and we always ask "is it your story to tell"? You need to have that right – and as soon as you do, the spectre of offending people recedes.'
And event host Sue Perkins said: 'A lot of comedy is about trust... you can go to all of these places if you believe in the person selling it.'
However, the panel also suggested future comedy should encompass more than these personal stories.
'It's a moment that we're going through,' Atalla said, explaining that after he saw all the traumatic stories on the Fringe: 'I'm interested about next year because you can't talk about your rape again. It feels like progress at the moment, this outpouring of authenticity, but people on this panel in 15 years… I wonder what they will say.
McDermott said 'we should have more satire' alongside such shows, saying 'nothing's trumped' the Brass Eye paedogeddon special of 1997. 'I don't feel people are doing that stuff now. Where are the successors to people like Frankie Boyle?'
Perkins suggested the blame – as for so many things – could be laid at the feet of Brexit.
'Comics don't touch politics because politics is Brexit,' she said. 'And then you risk losing 48 or 52 per cent of your audience. When Brexit is resolved, maybe there will be more to talk about.'
McDermott – who admitted she was delighted Channel 4 had offended Nigel Farage with a joke at his expense on Year Of The Rabbit – conceded that in general 'maybe we've become a bit neutral and could do with something a bit grittier'.
She also said that the holy grail for broadcasters was not necessarily the personal stories that only resonate strongly with their target audience.
'You need shows that are "I'm going to my bedroom to watch this by myself", but it would be nice to get more that's a shared viewing experience,' she said. 'To have stuff you can share with other people is an exquisite thing comedy can do.'
The panel also recalled what things had and had not sparked complaints over their career.
Sky comedy chief Jon Mountague said jokes in which animals got hurt always attracted the strongest response, recalling a sketch show he made for the BBC in which one character got beaten up and killed, attracting no complaints. But when another scene showed someone machine-gunning dogs, they got 22 complaints.
Mountford added that one way to mitigate controversial comments was to 'have someone else looking offended to represent the audience'. While Mountague said: 'With comedy, a lot of it is identifying what the target is' - once that was clear it's easier to work out what can be said.
To illustrate how times have changed, Atalla explained: 'There was a lot of blacking up in Little Britain, and there were hardly any complaints. Ting Tong (pictured) absolutely sailed by.'
But he also said: 'This whole culture of people going through tweets and finding [offensive] things that were OK at the time is not really fair.'
He also said he now felt discomfort at jokes Gervais cracked at his expense during the 2006 British Comedy Awards.
'I was complicit, but I don't look at it with an enormous amount of pride,' he said. 'I feel a bit uncomfortable about some of the stuff we did.
'Now I would make people feel comfortable with the fact I'm in a wheelchair first. I would be the first person to make jokes about myself to allow people to feel comfortable about the wheelchair.
'Ricky did go on to make a lot of shows about disability so maybe he's obsessed about it…'
Published: 22 Aug 2019
What do you think?