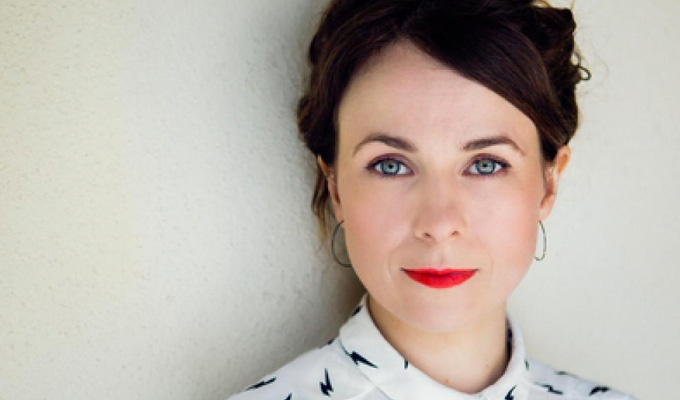 Cariad Lloyd writes a book about grief
Cariad Lloyd is writing a book about grief, following her successful podcast on the topic.
Publisher Bloomsbury won the rights to publish the title, You Are Not Alone, after seeing of 14 other companies in a fierce bidding war.
Publishing director Alexis Kirschbaum said: 'Like many people, I've been listening to Cariad Lloyd's Griefcast for years.
'Her podcast has changed the kinds of public conversations people feel able to have about grief and grieving, helping millions of listeners in the process.
'Her book will be thrilling because we will get more of Cariad, who is a searching, humane, and radiant writer. It will crystallise hundreds of hours of listening into a loose framework for grief that will alleviate suffering, because it is full of life and humour and wisdom and because it offers readers understanding.'
Lloyd, began the Griefcast in 2016 by interviewing fellow comedians Adam Buxton, Jayde Adams, Sara Pascoe and Jon Harvey about the loss of a loved one and its effect on their lives. Inspired by her coming to terms with the loss of her own father, when she was 15, these original episodes were heard 100,000 times in the first three months.
The series has now had more than 3.7 million downloads, and it won Podcast of the Year at the British Podcast Awards 2018. Each episodes ends with the words: 'You are not alone'.
In a statement, Bloomsbury said: 'You Are Not Alone will draw on everything Cariad has learned both from her own experience, as well as from the hundreds of hours she has spent interviewing others about one of the most significant events of a person's life: its end.
'It will both start, and continue, this all-important conversation on grief, as she delves into the psychology and cultural science behind how society deals with death and loss.'
No publication date for the book has yet been announced.
Nelle Andrew of agents Peter Fraser Dunlop negotiated the deal for Lloyd.
Published: 9 Aug 2019
What do you think?