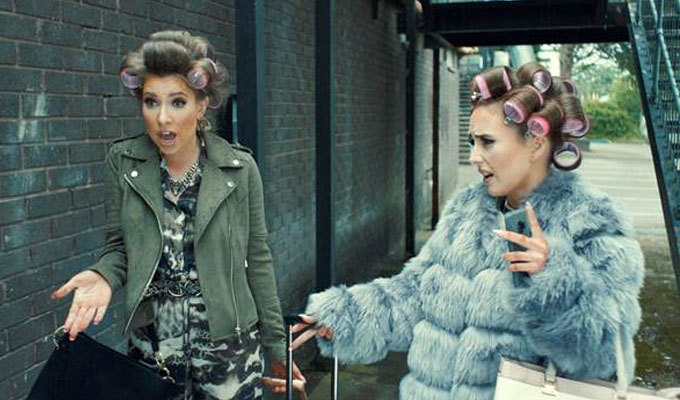 BBC unveils a new batch of comedy shorts
The BBC has announced a new batch of four Comedy Shorts featuring Diane Morgan, Lolly Adefope, sketch duo Lazy Susan and Famalam's Gbemisola Ikumelo.
The commissions are a launchpad for new talent, and one of last year's – The Mind of Herbert Clunkerdunk starring Spencer Jones – has been picked up for a forthcoming series of four ten-minute episodes.
Three of the four 2019 shorts will be released on iPlayer Thursday, with Ikumelo's Brain In Gear coming on Saturday August 3. All will also be broadcast on BBC Two.
Shane Allen, the BBC's controller of comedy commissioning, said: 'These shorts are a fast track way to back generation-defining comedy talents to experiment with story and form. They also offer the comedy audience a novel way to watch comedy in more readily digestible ways as their attention is being pulled in so many more ways than ever before.'
Two of last year's shorts - Tim Key's Wonderdate and The Mind of Herbert Clunkerdunk received Bafta nominations in the Short Form Content category. All four of that batch - also including Nick Helm: The Killing Machine and Sara Pascoe vs Monogamy are still on iPlayer.
Here are the new shorts, all led by female talent:
Brain in Gear
Written by and starring Gbemisola Ikumelo (Famalam, The Last Tree) Brain in Gear is a ten-minute flat-share comedy where the nightmare tenants are the voices in your head – from the positive ones that urge you to go out and engage with the world to the negative one that tells you stay in bed.
Ikumelo plays Remi who tries her best to navigate the contradicting advice from her inner selves who refuse to stay 'inner', and have an annoying habit of appearing uninvited in her home.
Brain in Gear is described a 'funny, surreal yet relatable, poignant yet puerile take on the conversations we have with ourselves every day.
Ikumelo said: 'I talk to myself a lot. As in full-blown, animated chats about everything and nothing, and I've often wondered what I would look like if someone placed a hidden camera in my home and caught me mid-flow. Brain in Gear is the world getting to see some of the awful things I get up to when I'm alone. Don't judge me!"
Brain in Gear is a BBC Studios production. The producer is Inez Gordon and the executive producers are Ben Caudell and Sam Ward.
Lazy Susan
Double act Freya Parker and Celeste Dring present new creations and familiar characters from their stage shows such as Megan and Michaela who just 'don't want any drama tonight' and Thomas and Sandrine the 'whimsical French woman, written by a man who's never met a woman'.
The BBC says the ten-minute short is 'subversive, strangely universal, and most importantly, extremely funny'.
In a statement, the duo said: 'This is a really exciting opportunity for us. We're so glad that [producers] Amy Annette and Katie Churchill said yes when we proposed making it with them (on bended knee – as is customary in TV pitching).
'It's our best shot at capturing some of the essence of our live shows but reimagining it for telly / the internet. We've got a really great team around us - including ace director Jennifer Sheridan - so it really is a shame that we've already blown the entire budget on models and jet-skis.'
And the producers said: 'It's not every day a duo like Freya and Celeste come along. We think it's telling that every comedy fan and comedian who hears we're making this show gets very excited about it. We're delighted that, via the BBC, everyone will get a chance to meet Lazy Susan and their smart, silly and darkly funny world.'
Lazy Susan is a Tiger Aspect production, with Myfanwy Moore the executive producer.
Mandy
Making her directorial debut, Philomena Cunk star Diane Morgan also wrote and stars in Mandy, a comedy film about a woman who wants a sofa so much that she will do literally anything to get it, no matter the cost.
The 15-minute short co-stars Ikumelo, comics Alistair Green and Mark Silcox, TV presenter Rick Edwards and Carol Decker from T'Pau.
Morgan said: 'As well as writing and performing in this, I also did location scouting, prop-buying, costume and my own hair and make-up. But if it's no good I can always blame the director. Oh hang on, that was me as well.'
Mandy is a BBC Studios production. The producer is Sam Ward and the executive producer is Ben Caudell.
Sorry
Sorry is written by and stars Lolly Adefope as the similarly named Dolly Adesina, an actress on the verge of super-stardom and a self-described 'black Jennifer Lawrence'.
She is on the way to the London premiere of her first Hollywood film, but during the journey, she finds out she's trending on Twitter, but for all the wrong reasons - putting her career in jeopardy...
The BBC says that the 14-minute short 'explores the ideas of intent, regret and redemption, and asks the question: who gets a second chance?'
Adefope said: 'So excited to be making a comedy short for BBC iPlayer, and especially excited by the opportunity to really get out of my zone by playing an actress who gets into trouble for something she tweeted!'
Sorry is a Tiger Aspect production. The producer is Pippa Brown and the executive producer is Damian Kavanagh.
Alex Moody is the commissioning editor for the BBC for all of the shorts.
Published: 23 Jul 2019
What do you think?