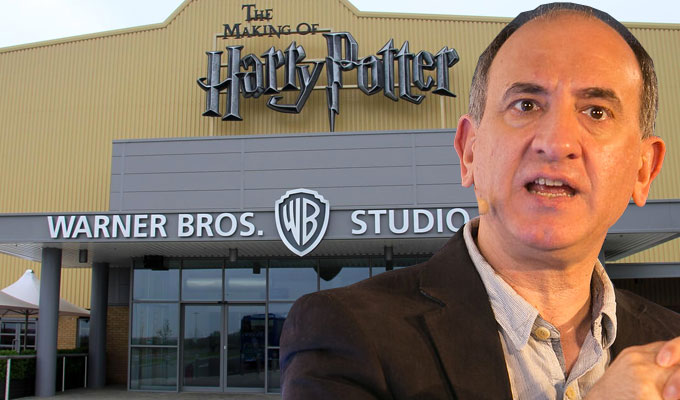 Fire hits Avenue 5 filming
A fire has ripped through the set of Armando Iannucci's new sci-fi comedy Avenue 5.
Firefighters spent more than 15 hours tackling the blaze at Warner Bros studios in Leavesden, Hertfordshire, which broke out late on Wednesday nights.
The fire service sent 15 vehicles to tackle the fire. But they said the set involved was not being used at the time and that there had been no reported injuries.
Iannucci tweeted: 'It's been quite the day. I can't thank Hertfordshire Fire and Rescue Services enough. Everyone is safe and well, and we're all Keeping Calm and Carrying On.'
And when chief fire officer Darryl Keen responded that he was 'very proud' of his team in tackling the blaze, Iannucci added" 'You're right to be proud, Darryl, they did a mighty job. We're all indebted to your team and the good folk at @warnerbros Leavesden for all their help and support. We're nearing the end of our shoot and we're carrying on to the last page.'
The HBO series stars Hugh Laurie as the American captain of a tourist spaceship, with Rebecca Front as a middle-aged housewife, who illegally boarded the vessel,
Executive producers include Kevin Loader – who also worked with Iannucci on The Death Of Stalin, as well as Simon Blackwell, Tony Roche and former stand-up Will Smith, all of whom worked as writers and producers on Veep.
HBO said that 'production continues as the producers and writers assess the best plan to complete filming of the final two episodes of the series. We echo Armando Iannucci's praise for the firefighters who brought this situation to a safe conclusion.'
The Warner Bros studios have previously been used to shoot Harry Potter, James Bond, Fast and Furious and Mission Impossible movies
Published: 13 Jul 2019
What do you think?