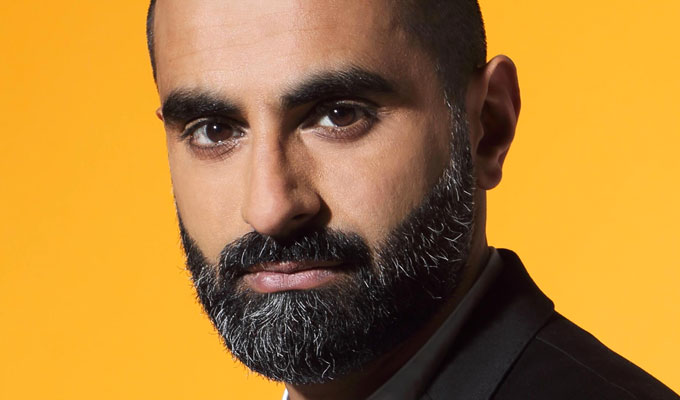 More comics join C4's Tez O'Clock Show
Guz Khan, Sindhu Vee, Sophie Willan and Adam Rowe have joined the cast of Tez Ilyas's new topical Channel 4's comedy show.
The show was first revealed in January, but the broadcaster has now announced full details, including the title: The Tez O'Clock Show.
Three hour-long episodes will airing at 11pm each Thursday from July 25 – and Channel 4 is advertising it as 'truly anti-establishment' given that it's hosted by a northern working-class British-Asian-Muslim.
The show promises a topical mix of sketches and studio antics, including provocative monologues and celebrity interviews.
Crashing into the studio show will be parodies, sketches and news bulletins from the Pakistani Broadcasting Corporation (PBC), starring Khan and Vee.
In the studio, Ilyas will take part in a briefing room, based on those he experienced when he worked as a Home Office civil servant. Willan and Rowe will each try and sway him to their different ways of thinking about one of the week's big issues,
He'll then be joined by co-anchor Vee, in an on-set shisha café, where they'll be joined by 'funny, opinionated' guests.
The Tez O'Clock Show will be filmed each week at Manchester's MediaCityUK in front of a live studio audience.
Ilyas said: 'OMA! This is proper surreal man. Thank you Channel 4 for this massive opportunity to follow in the footsteps of giants. Mama! We did it mama!
'I'm can't wait for everyone to see it... I hope y'all are ready for my silly, smart and subversive take on the world. This is the show I've always dreamed of doing (after Blue Peter obvs).'
The show is made by independent production house Expectation and Ilyas' own company Pious Productions.
Expectation's creative director for comedy, Ben Wicks, said: 'Tez Ilyas is an extremely smart, wonderfully playful satirical comic and we should all be hugely grateful Channel 4 have given him a series.
'Had they not he might have returned to his old job at the Home Office where - given the strength of his jokes - he'd have done untold damage.
'He is flanked by the ludicrously talented Guz Khan, Sindhu Vee, Sophie Willan and Adam Rowe. They are collectively wrestling satire from rich white people in a show that oscillates from sharp to silly in a fast-paced comedic blitz.'
Channel 4 commissioning editor Karen Murdoch, added: 'Tez Ilyas is an incredibly exciting talent, and we are thrilled to have him on Channel 4. With all the political shenanigans going on in the UK and the world in general, it feels particularly timely to be launching a brand new satire show, hosted by such a smart and fresh new voice.'
Published: 11 Jul 2019
What do you think?