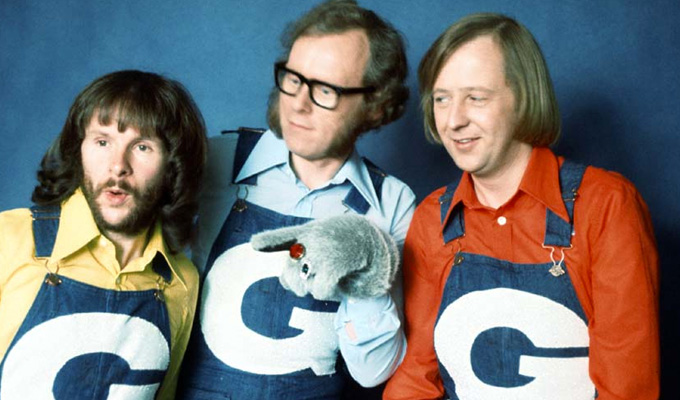 The Goodies: The movie?
The Goodies are hoping to make a feature-length documentary about their work – if producers can crowdfund the £100,000 needed from fans.
They will be hoping to include rare and previously unseen footage of Tim Brooke-Taylor, Graeme Garden and Bill Oddie is they can get their project off the ground.
And its hoped that the 'definitive story' can be released in November next year, on the 50th anniversary of the trio's first BBC series.
The film will be written, produced and directed by Kim Leggatt, whose previous work includes a documentary about HandMade Films, set up by Beatle George Harrison in 1978 to finance the Monty Python film Life of Brian.
She is joining with producers Pete Ward and Billy Watson to make the show, turning to IndieGoGo to find the budget. So far they have raised just over £9,000, with more than 20 pledging more than £100, with a month to go.
Leggatt said she was using crowdfunding to get the money quick enough to hit the 50th anniversary milestone, adding that the £100,000 was enough to make a film which could then be further funded by distributors.
The three stars have made a video to appeal for the funding, with Oddie saying 'it's about bloody time' their work was celebrated.
Brooke-Taylor added: 'The team making this want, for once, to tell the full story. Things you didn't know, things that possibly we didn't know.'
On the IndieGoGo page, the producers say:'"We'll be bringing unseen material into the world as we scour every archive library and attic out there, looking for Goody gold. Hopefully footage you've never seen before and audio-taped interviews that have only existed in journalists' basements up until now.
'With your help, we'll be showing as many clips from the episodes as we can. It's a numbers game: the more money we raise, the more clips we can license.
'We'll be interviewing all those people that were part of their journey, telling stories that have never been heard before.
Anecdotes, memories and laughter.'
Last year, all eight original BBC series of the Goodies were released in a DVD box set for the first time.
Published: 10 Jul 2019
What do you think?