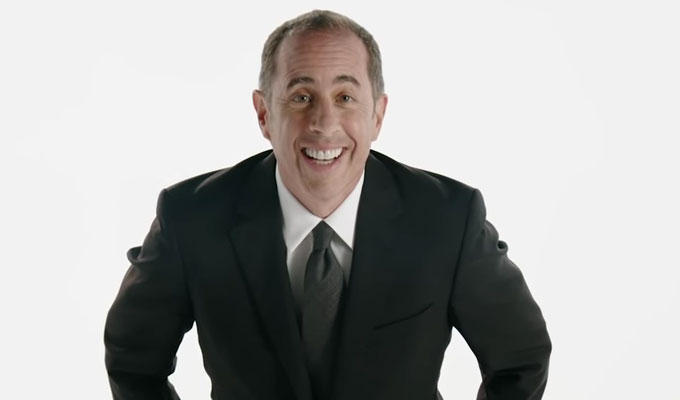 Jerry Seinfeld apologises to Red Dwarf star
Jerry Seinfeld has issued an apology to Red Dwarf star Robert Llewelyn over Comedians In Cars Getting Coffee.
Earlier this week, the US comedian released a trailer for the upcoming 11th series of his show in which he mocked other shows – including James Corden's Carpool Karaoke – for being copycats.
But as many, including Chortle, pointed out, Seinfeld is on shaky ground when it comes to claiming originality – as Llewellyn had an almost identical series called Carpool in 2009.
That show was filmed on a dashboard GoPro as he chauffeured guests including Stephen Fry and Professor Brian Cox in his hybrid car.
Today, Seinfeld tweeted: 'Apology to Robert Llewelyn Car Pool. Had not heard of it.'
When the American launched his show in 2012, Llewellyn said he got 'literally thousands of tweets from people going, "Jerry Seinfeld stole your show! Sue him! You'll be worth millions!"' But he never did
In 2017, told The Daily Beast: 'The lawyers confirmed that we couldn't sue them and I wouldn't want to. It just creates bad blood and I don't want to be that person that does that sort of thing.'
In his new trailer, Seinfeld says: 'We have noticed that we have influenced – shall we say – a number of other shows,' and listed a number of other programmes.
'We are proud that others have taken notice of our style and been inspired by it,' he added. 'The only comment we would like to make is that if you are going to knock us off, get it right!'
The new series, which launches on July 19, features Eddie Murphy, Seth Rogen, Ricky Gervais, Matthew Broderick, Jamie Foxx, Sebastian Maniscalco, Martin Short, Mario Joyner, Melissa Villaseñor, Bridget Everett and Barry Marder.
Llewelyn has just returned to TV in his Red Dwarf role as Kryten, for a series of AA adverts.
Published: 3 Jul 2019