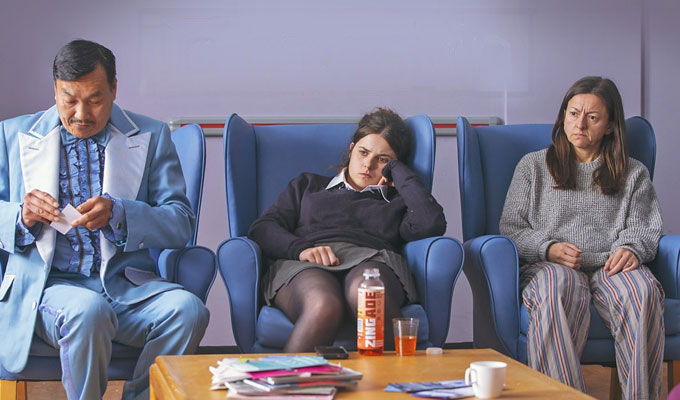 BBC orders a dark comedy about a teen and her mentally ill mum
The BBC has commissioned a new dark comedy series about a teenage girl whose mother has been sectioned in a mental facility.
Four episodes of In My Skin have been ordered following a standalone pilot which premiered as a Comedy Slice on BBC Three last year.
The show, which the broadcaster describes as 'funny, raw and heartbreaking' is written by Kayleigh Llewellyn, based on her own experiences.
It stars Gabrielle Creevy as Bethan, who desperately tries to keep the truth of her home life a secret from her friends. But she finds its hard as her mother (Jo Hartley) has a penchant for breaking out, of her institution and her father is a Hell's Angel who drives a rag and bone truck.
But, according to the official description of the show, 'her cheek and wit can only carry her so far as she digs herself deeper and deeper in to a hole of her own lies.
Along the way there are lesbian infatuations, tough love from her Nana, and non-stop interferences from her bulldozer teacher who is always on her case.'
Llewellyn said that Bethan's story is 'close to my own heart, and I hope in some way we can help to chip away at the shame that so often surrounds mental illness'.
In My Skin will air on BBC Three and BBC Wales. Nick Andrews, head of commissioning for BBC Wales, said: 'The reaction to In My Skin has been stunning. Gabrielle Creevy's performance as Bethan, a funny, sassy, melancholy teen enduring a unique coming-of-age experience, is profoundly moving.
'Kayleigh, who wrote the piece based on her own experiences growing up in Cardiff, has to be one of the sharpest observers of family life in Britain today. It's the best news that this pilot will soon be a series.'
Shane Allen, controller of BBC comedy commissioning, added: 'In My Skin heralds a bright new comedic voice in Kayleigh who paints an unvarnished, complex and truthful coming-of-age story full of heart and humour.
'The ambition of the writing has been matched through the alchemy of casting, setting and production to offer the BBC Three audience up something wholly original and truly sublime."
Filming will begin later this year.
In My Skin Production credits
Made by: Expectation
Written and created by: Kayleigh Llewellyn
Directed by: Lucy Forbes
Executive producer: Nerys Evans
Producer: Sophie Francis
Ordered by: Shane Allen, controller of BBC comedy; Fiona Campbell, controller, BBC Three and Nick Andrews for BBC Wales
Commissioning Editors: Kate Daughton and Paul Forde
Published: 28 Jun 2019
What do you think?