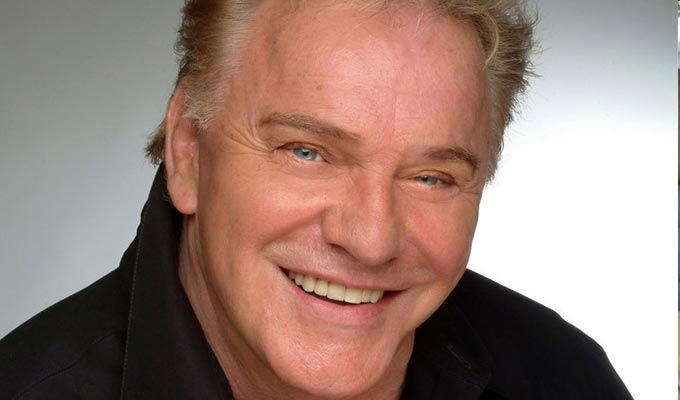 'Return to sender': Fans attend Freddie Starr's funeral
A small crowd of mourners gathered outside the Merseyside where Freddie Starr was laid to rest this afternoon.
Fans braved the rain to listen to the funeral service on speakers relaying the service outside Prescot Parish Church.
They had been asked to wear a red tie or a red rose to honour his famous Teddy Boy jacket, and some did.
The crowd broke into applause as the hearse drew up. The comedian's coffin has the words 'Liverpool legend' engraved on one side and 'return to sender' on the other. As well as the obvious joke about going back to meet his maker, Starr often performed as an Elvis Presley impersonator, and covered the song.
Mourners invited to touch the coffin and take pictures with it at Freddie Starr's funeralhttps://t.co/C8IQC2qT5Z pic.twitter.com/Y4Ih77NeXg

— Mirror Celeb (@MirrorCeleb) June 13, 2019
Applause as the funeral cortège arrives pic.twitter.com/BJTDwlWFc4

— Rachael McMenemy (@RachaelMcEcho) June 13, 2019
Not many famous faces were in evidence, but medium Derek Acorah was among the mourners.
Starr's daughters Ebony and Tara were there – but Tara declined to take part in the tributes, having previously detailed her abusive childhood to the newspapers.
Canon John Taylor, who conducted the service, called Starr 'an outstanding talent and a comic genius'.
Freddie Starr's coffin is carried from the church following the service to the sounds of one of the comedians songs. pic.twitter.com/qahMzSfH4t

— Radio City News (@RadioCityNews) June 13, 2019
The public service was followed by a private family burial.
Starr's body was repatriated from Spain, where he died last month at the age of 76, thanks to a stranger.
Funeral director Michael Fogg offered to cover the £20,000 costs after this family feared the comic would have a 'pauper's funeral'.
He previously told the Liverpool Echo: 'Anyone that can make a funeral director laugh must be a bloody good comedian. And Freddie Starr could make me laugh.
'For those asking why I am paying… well, he should be back with the people he loved and back with his family. He shouldn't be buried in foreign land, he should be brought back to be in his own country.'
Freddie died at his Spanish home in Mijas, on the Costa Del Sol, on May 9 at the age of 79. He was said to be a recluse and in ill health in his final days.
The comic was widely reported to be a broken man after losing a libel case in 2015 that he brought against a woman who said he groped her in the dressing room of a Jimmy Savile show when she was a teenager. The judge threw out Starr's case because 'her words were true'.
Published: 13 Jun 2019
What do you think?