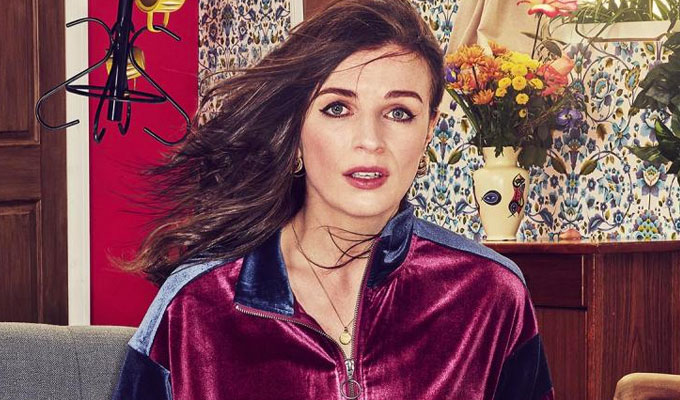 First look at Aisling Bea in This Way Up
Here is the first look of Aisling Bea in her new Channel 4 comedy This Way Up.
Originally announced as Happy AF, the six-part comedy co-stars Sharon Horgan as Bea's sister and is being made in association with Hulu in the US.
As well as writing the series, Bea plays Aine, a smart English-as-a-foreign language teacher trying to pull her life back together after a 'teeny little nervous breakdown'.
The cast also includes Aasif Mandvi as Vish, the boyfriend of Horgan's character Shona, Timewasters star Kadiff Kirwan as Aine's roommate, and comedian Ricky Grover as her friend Tom.
Bea said: 'After years of scripts and projects that never made it to air, this show is a bit of a dream come true, so I really bloody hope you like it.
'Sharon and I first played sisters in a TV show that got cancelled about eight years ago and we have gone on many drunken nights out across the world together since to stay in character for this project.
'Channel 4 have supported and backed me in many ways for years now, so I am over the moon to have my little baby live with them and to have it go visit its step-mother Hulu in America too."'
The cancelled TV show she is referring to is the BBC Three prison comedy Dead Boss, which also starred Jennifer Saunders, Lizzy Roper and Susan Calman.
Channel 4's head of comedy Fiona McDermott added: 'Already an established stand up and actor, Aisling has delivered the most fantastically funny yet tender, poignant and surprising show in This Way Up and, with Sharon Horgan playing her sister, we get two of the funniest people on the planet putting their own glorious spin on the sibling thing. We love it.'
Horgan is also executive producing the show along with her business partner Clelia Mountford through their production company Merman.
This Way Up
Production Credits
Written by Aisling Bea
Made by: Merman
Commissioned for Channel 4 by: Head of Comedy Fiona McDermott and Commissioning Editor for Comedy, Jack Bayles
Executive producers: Clelia Mountford, Sharon Horgan and Aisling Bea
Director: Alex Winckler
Series producer: Gavin O'Grady.
Published: 13 Jun 2019
Recent News
What do you think?