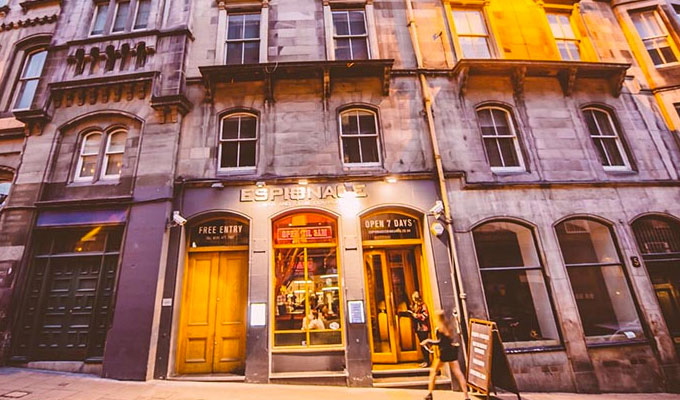 Fears over Fringe shows as Espionage venue closes
Edinburgh's Espionage nightclub is unexpectedly closing down, Chortle can reveal, putting scores of Fringe shows in doubt.
The venue between Cowgate and Victoria Street is to shut down from June 12 because of heath and safety concerns during the construction of a huge, controversial Virgin hotel on the adjoining site. It will not reopen in time for the festival in August.
During the Fringe, the venue is operated by the Laughing Horse's Free Festival, and last year hosted 46 shows.
So far this year 28 shows have been announced there, with the performers having paid up to £393 for now inaccurate information to be included in the official printed programme, which is out on Wednesday. They have all been sent emails outlining the situation.
The messages say: 'In the last week it's become apparent that this major building work is going to affect Espionage to the extent that the business can no longer operate safely during these works. We are already talking collapsing walls, rubble, loss of services and access into the building, and this is only due to get worse going into the summer.

'The owners of Espionage have had to taken the decision to temporarily close the business as it is likely to be impossible to operate from the site, and we have started to put plans in place for Espionage Fringe shows to continue to run over August elsewhere.'
Alex Petty of Laughing Horse said he was confident new homes would be found for all the shows in good time and is working with the venue owners to fix the situation.
He told Chortle: 'The venue owners very much understand the importance of moving the Free Festival shows into new spaces, and have been hugely proactive in already finding four new rooms located very close by and organising this: two rooms as additional spaces in other Fringe venues on or near Cowgate, plus a new brand new pop-up venue on Cowgate.
'We'll hopefully be in a position to announce the exact details of the moves during next week, and the Fringe are already working with us and the shows on this too.
'Hopefully, despite losing such a big site, it's happened at a time the moves can be well organised, so should all be as painless as possible for performers to relocate.'
Espionage is owned by Glasgow-based G1 Group that also owns a number of other venues used during the Fringe, including Cabaret Voltaire, the Three Sisters and Ghillie Dhu.
Comedian Joe Bor, who had two scheduled at Espionage, admitted: 'I'm a little bit worried as I haven't done Edinburgh for five years… Hope it's gonna be OK.'
The reputation of the free model was damaged in 2015, when dozens of free festival shows were made homeless because of a bitter dispute over which organisation had the right to programme the Cowgatehead site. Laughing Horse's Free Festival was not involved in that dispute between the now-defunct Freestival and the long-established PBH Free Fringe.
Virgin are building a nine-storey, 225-bedroom hotel on a previously empty site the heart of the Old Town, but it has attracted protests for overshadowing the neighbouring Edinburgh Central Library
* Chortle is holding an industry session about the Fringe tonight – Tuesday June 4 – at the Museum of Comedy in London featuring Pleasance head of comedy Ryan Taylor, Fight In The Dog producer Brid Kirby, publicist Madelaine Bennett and Chortle editor Steve Bennett. Details.
Published: 3 Jun 2019
What do you think?