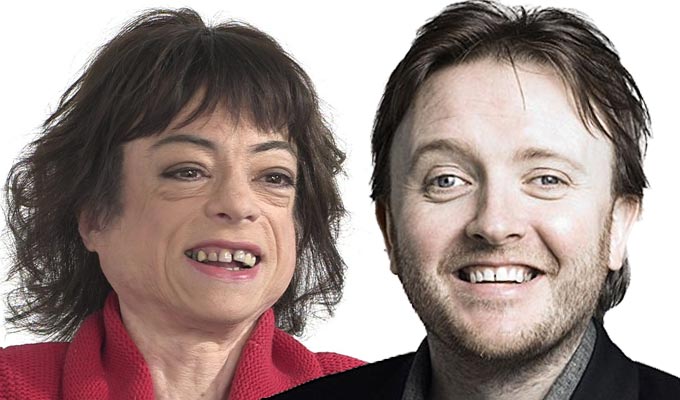 Where are the disabled comedians on panel shows?
Chris McCausland and Liz Carr are to become the first comedians with physical disabilities to appear on a national BBC panel show in more than five years, Chortle can reveal.
McCausland, who is blind, and Carr, who has a rare genetic condition, recorded episodes of Would I Lie To You? this month which will air in the autumn.
No current networked BBC TV panel show has featured a stand-up with a physical disability in that time, including Would I Lie To You?, Have I Got News For You, Mock The Week, QI, Room 101 and Insert Name Here.
Commercial broadcasters have performed little better. ITV's Harry Hill's Alien Fun Capsule, The Imitation Game, Celebrity Juice and Celebability have also declined to book any comics with physical impairments. Nor have any appeared on Channel 4's 8 Out Of 10 Cats Does Countdown, Sky's League of Their Own or Dave's Taskmaster and Go 8 Bit.
Rosie Jones, who has cerebral palsy, is an outlier, appearing on 8 Out of 10 Cats twice and Hypothetical, with an episode of 8 Out Of 10 Cats Does Countdown to come this summer.
Another notable exception is BBC Scotland's Breaking The News. In just 11 televised episodes, the topical show has featured blind comic Jamie MacDonald and Stuart Mitchell, who lost the tips of two of his fingers in a childhood accident and has limited grip in his affected hand.
Despite winning Britain's Got Talent and having his own Radio 4 show, Lee Ridley, aka Lost Voice Guy, has never been asked to appear on a panel show.
'I think I would really enjoy it though,' he told Chortle. 'Because of the way I communicate, I think it would a challenge for me, and it's definitely one that I'm up for.
'Although it's not technically a panel show, I did appear on The Last Leg at New Year and I think that's given me the bug to do more of those sorts of things.'
He suggests that 'when you look at the standard of people who appear on those shows, it's mostly comics who have been on the block for a while. I'm a relative newcomer in comparison so I'm happy to wait for my turn … I think winning BGT will have definitely helped me get onto those programmes' radars though. I'm looking forward to my first invitation.'
MacDonald admitted that he 'couldn't believe it when I realised I was the first blind comedian to appear on a panel show'.
He added: 'It can't be anything but an accidental oversight because there's no way that they're going to point-blank say "we don't have disabled people on our shows". They'd be hauled over the coals.
'It's quite hard to get an agent for disabled act … maybe there's a fear that we won't be able to cope with the gladiatorial environment. But that's what comedians do. If we can't hold our own in the panel show environment, then that's why we shouldn't get on. But there's no reason why disabled acts shouldn't be asked to be on the trial shows'.
Since 2014, when the BBC's then director of television, Danny Cohen, forced the corporation's panel shows to feature at least one female guest, by making public its in-house quota, gender balance for the genre has improved, but still falls short of parity.
But the BBC, whose strategy for commissioning pledges to 'encourage greater inclusion of disabled people appearing as contributors and experts across factual content, game shows and panel shows', is still failing in its inclusion target for the latter.
McCausland's manager, Jacob Howe-Douglas, told Chortle that Zeppotron, the company that makes Would I Lie To You?, 'were extremely accommodating with Chris, and his disability did in no way alter the format of the show; in fact, it added a new and very funny dimension.'
'Liz and Chris were both great on the show, and we're always keen to be as diverse and accommodating as possible' adds Adam Copeland, Would I Lie To You?'s producer. 'Every guest brings us something unique, and whether they have a disability or not, we're always on the look-out for entertaining people who are able to tell a cracking story.'
Carr, who has also been a regular on on BBC drama Silent Witness, has arthrogryposis multiplex congenital and has used a wheelchair since the age of seven
By broadening the definition of comedian beyond stand-ups, the figures in Chortle's research appear marginally less damning. The Last Leg presenter Alex Brooker, who was born with limb deformities and has an artificial leg, has appeared on Room 101, Would I Lie To You, 8 Out Of 10 Cats Does Countdown, Harry Hill's Alien Fun Capsule, twice on Celebrity Juice and three times on 8 Out Of 10 Cats in the last five years. Sitcom actor Warwick Davis, who has dwarfism, appeared on Room 101 in 2015 and Would I Lie To You the following year.
'The television and radio industry as a whole could still do a lot better' argues Ridley. 'I've said this in the past, but society as a whole needs to start treating disabled people differently for any real changes to happen. The media can certainly play a big part in getting us to that point. I think it's vitally important that there's more positive disabled role models seen in the media, so that society in general gets used to seeing us just as part of the furniture rather than something that is a bit unique and quirky.
'If the programme makers put more disabled people on panel shows then audiences would get more used to them. But, at the same time, audiences need to support these disabled comedians on the comedy circuit and on their tours so they can be successful enough to make a name for themselves. Everyone has to share the responsibility for changing attitudes.'
MacDonald reckons that a shift in attitudes from programme-makers will mean more opportunities for comics like him. 'I'm going to be chapping doors,' he says. 'There's no reason why there shouldn't be more disabled comics on because we add flavour to these shows. It's a good angle to talk about the news or whatever, so I think it will get better.'
Chortle approached the television channels for comment on our story. The BBC is yet to respond.
Channel 4 said: "Channel 4's panel shows have often featured a range of guests with disabilities and we continue to be proactive about improving representation both on and off-screen across all output, building upon the success of shows such as The Last Leg, The Paralympics, Hollyoaks and creating more initiatives such as our £1million Diversity in Advertising Award."
ITV said: 'We are absolutely aware, as are all broadcasters that disabled people are underrepresented on television, and this is an area of focus for us, as it is all broadcasters including through the Creative Diversity Network Doubling Disability Initiative.'
UKTV, which owns the Dave channel, said: 'We aim for our shows to book talent that reflects all forms of diversity in society and are actively looking at how we can work with the broadest range of diverse talent, in front of and behind the camera, for example with UKTV and Film London's Equal Access Network new collaborative initiative aimed at securing employment within the TV industry for underrepresented groups and our work with Calm and neuro-diverse talent.
'We're working with talent like Rosie Jones, who has appeared on both Hypothetical and the upcoming series of Jon Richardson: Ultimate Worrier, and Lee Ridley, who is scheduled to record an episode of Comedians Giving Lectures.'
Sky declined to respond with an official statement. But a press officer said: 'fair and equal representation on screen is an area of focus for Sky and we are always looking at ways to positively reflect the diversity of our audience', before pointing to its recent shorts with Lee Ridley, Alex Brooker and Jonny Pelham.
- by Jay Richardson
Published: 29 May 2019
What do you think?