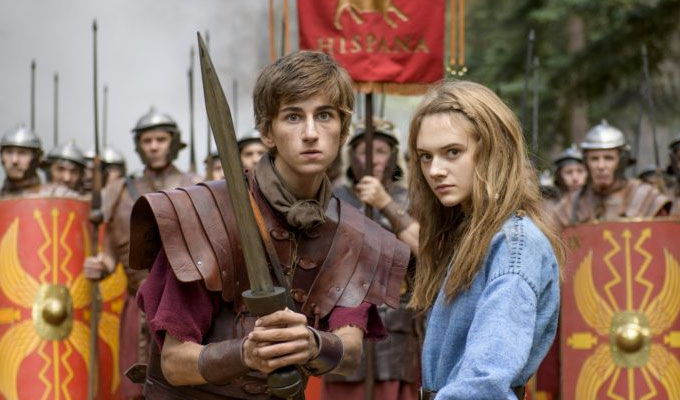 Horrible Histories movie gets its world premiere
The Horrible Histories movie will have its world premiere at the LOCO London Comedy Film Festival in July, it has been announced.
Set in ancient Roman times, the film will open the four-day festival at the BFI on July 11.
It stars Sebastian Croft as a Roman teenager forced to join the army then sent to Britannia to quell the uprising lead by Boudicca (Kate Nash).
Nick Frost, Kim Cattrall and Rupert Graves are also in the cast alongside The Thick Of It's Alex Macqueen, comedians Alexander Armstrong, Lee Mack, Warwick Davis, Lucy Montgomery, Kevin Bishop Dustin Demri-Burn, Chris Addison, Dan Renton Skinner, Katy Wix and even Sir Derek Jacobi reprising his title role from I, Claudius.
Horrible Histories: The Movie - Rotten Romans will hit cinemas nationwide on July 26
Also in the cast are Sanjeev Bhaskar, Dave Lamb, Sarah Hadland, Jessica Ransom, Dominique Moore, Katy Wix, Tom Stourton, Richard David-Caine, Lawry Lewin, Katherine Jakeways, Samantha Spiro, Ella Smith, and Tim Downie.
The festival will also include a 30th anniversary screening of When Harry Met Sally, the London premiere of romantic comedy Masters Of Love and the documentary about the genre, Romantic Comedy, plus a programme of short films.
Festival director Denise Hicks said: 'This year we are celebrating the love of comedy and the comedy of love because we know that above all, comedy can bring people together.
'The future looks bright for British comedy film and TV creators and we're excited to create a place for the next generation to come together, share the love and spawn some comedy brilliance.'
The full programme is available here.
Published: 23 May 2019
What do you think?