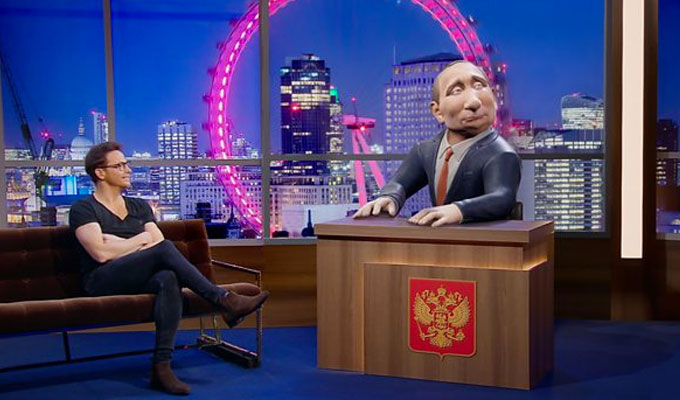 'Vladimir Putin' to front his own BBC chat show
Vladimir Putin is to front a comedy chat show on the BBC.
But the show will not actually be fronted by the Russia President, but a 3D-looking digital cartoon created by visual effects wizardry.
The effects, developed by creative studio Framestore, enables the character to walk around and sit behind the desk, interviewing real human guests in front of a studio audience, all in real-time.
Two 12-minute pilots have been ordered for BBC Two.
The first guest in episode one is Alastair Campbell, whom Vlad warmly thanks for his part in making such a mess of things, followed by June Sarpong
In episode two Putin meets Joe Swash and tries to get his head around equality with Guilty Feminist podcaster Deborah Frances-White.
The show has been created by Jasper Gibson, co-founder of The Poke website, and Joel Veitch, the animator behind Rathergood.com, and Framestore's Simon Whalley.
And the Putin character is written and performed by comedian Natt Tapley.
Production credits
Made by: Phil McIntyre Television and Framestore
Commissioning editor: Rachel Ashdown
Executive producer: Lucy Ansbro
Series producer: Lindsay Jex
Published: 22 May 2019
What do you think?