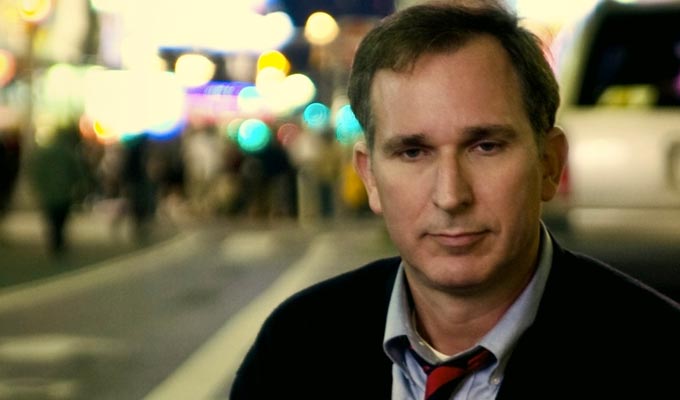 History of Comedy podcast to return
A podcast charting the evolution of live comedy in America is to return for a second series.
The first season of The History Of Standup featured guests including Judd Apatow, Tig Notaro, Margaret Cho and Demetri Martin as it covered how the art moved from vaudeville to Netflix special.
Season 2 takes a closer look at the venues where standup took place, from the Apollo in Harlem that was so crucial to the black comedy circuit to the Playboy Clubs and Meltdown Comics in Hollywood where Chris Hardwick built his Nerdist podcast empire.
The show is hosted by comedian Wayne Federman, pictured, who acts as a teacher to co-host Andrew Steven and will return on June 4.
Here are some of the places they will be talking about:
The Apollo / Chitlin Circuit
The 'Chitlin Circuit' was a collection of venues that provided commercial and cultural acceptance for African-American musicians, comedians, and other entertainers during the era of racial segregation in the United States, from at least the early 19th century through the 1960s.
Lincoln Lodge, Chicago
For stand-ups in the 2000s, the Lincoln Lodge — the back room of a restaurant — became one of Chicago's best comedy clubs, hosting young comics who have since crafted big names for themselves, such as Pete Holmes, Kumail Nanjiani, Cameron Esposito, Hannibal Buress, and more.
Holy City Zoo, San Francisco
The club got its name from a sign the first owner, Robert Steger, picked up for free at a going-out-of-business sale at the local zoo in Holy City, California. The Zoo began staging stand-up comedy in the early 1970s, filling the void created by the decline of the famed Hungry i and Purple Onion clubs in North Beach, and became a clubhouse of sorts for comedians such as Robin Williams, Dana Carvey, Paula Poundstone, Margaret Cho, and a young Rob Schneider who had to wait outside the club to perform because he was underage.
The Academy Awards, Los Angeles
While not a traditional 'venue' The Academy Awards has been a place where countless stand-up comedians have shined, many while hosting the event. Since the Academy Awards ceremonies began in 1929, 73 people have hosted or co-hosted the event, but none more than Bob Hope – taking to the podium 18 times, beginning in 1940. Other multiple hosts or co-hosts include Billy Crystal (eight times), Johnny Carson (five times), Jack Lemmon (four times), Whoopi Goldberg (four times), Jerry Lewis (three times), and Steve Martin (three times).
The Playboy Clubs
A chain of nightclubs and resorts owned and operated by Playboy Enterprises where members and their guests were served food and drinks by Playboy Bunnies, some of whom were featured in Playboy magazine. The late Dick Gregory said he owed a lot to Hugh Hefner, the man who gave him his big break at the clubs. Hefner also helped Lenny Bruce, booking him at his clubs and on a Playboy TV when no one else would. Other stand-ups who played the Playboy circuit included Milton Berle, George Carlin, Mort Sahl and the nonsense-spouting 'Professor' Irwin Corey.
NerdMelt / Squatmelt, Los Angeles
Meltdown Comics was a giant comic book store in Hollywood and at the back was a small room that was used for small one-off art shows, board game and video game tournaments, and other occasional special event. Eventually, the back room hosted several stand-up and other comedy shows, and live podcasts, including The Meltdown Show with Jonah and Kumail (Jonah Ray and Kumail Nanjiani). The show would eventually air on Comedy Central. Simultaneously Chris Hardwick was building his Nerdist empire in Meltdown's attic. On March 30, 2018 Meltdown and NerdMelt closed, but that wasn't the end...
Broadway, New York
Stand-up has long been a feature on and off-Broadway. From recent shows from Mike Birbilia, John Mullaney and Nick Kroll, and Chris Gethard, to older acts such as Bob Hope, Robin Williams and Colin Quinn.
Published: 16 Apr 2019
What do you think?