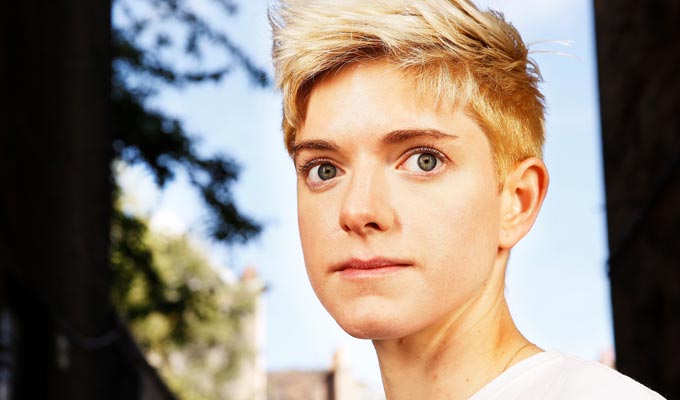 Mae Martin lands E4 and Netflix sitcom
Mae Martin has landed a sitcom with E4 and Netflix.
The semi-autobiographical comedy, with the working title Mae And George, will see the Canadian comic play a loose version of herself, a stand-up grappling with her sexuality and sobriety.
Life is further complicated by a new, all-consuming relationship with her new girlfriend George.
Co-written with former News Quiz scribe Joe Hampson, six 30-minute episodes have been ordered following a successful, non-broadcast pilot in 2017. The sitcom is being made by Fresh Meat and Peep Show creators Objective Fiction.
Mae And George is based upon the themes of sexuality and gender fluidity of Martin's 2015 stand-up show Us, which she previously adapted for Mae Martin's Guide To 21st Century Sexuality, currently being repeated on Radio 4.
It also draws on the addictive personality she explored in her 2017 hour Dope, for which she earned an Edinburgh Comedy Award nomination, before recording it as a Netflix special.
Martin said: 'We cannot wait to make this show with E4, Netflix, and Objective Fiction – what a dream. I'm especially pumped to be co-writing Mae And George with my best friend Joe Hampson. He has such an incredible head of hair. We are excited to make a show that is both funny and sad, like our lives, and I hope they've factored therapy into the budget because I'm already hanging by a thread.'
The sitcom's commission also continues London-based Martin's relationship with Channel 4, after she presented their short film showcase Random Acts last year.
The sitcom's producer is Chewing Gum's Kelly McGolpin​ and it was commissioned by Fiona McDermott and Rachel Springett for Channel 4 and for Netflix by Larry Tanz.
McDermott said: 'We're so thrilled to back Mae on this project. Her comic voice fantastically captures the inelegancies of being young, now. She riffs from vulnerable to intense to hilarious and it all feels so real and refreshing. Mae and George is totally unique and totally accessible.'
McGolpin added: 'Mae's stories are unique and yet utterly relatable – we hope that viewers will fall in love with her, as her live comedy audiences have. She and Joe Hampson are huge talents and we are very proud to be helping create their world.'
The comedian will return to stand-up in June with her improvised hour, The Mae Martin Experiment, at the Soho Theatre, and she is also about to publish her first book of sex advice for teenagers. Can Everyone Please Calm Down?: A Guide to 21st Century Sexuality is published in paperback on May 16. (Order)
The bisexual comic calls the book 'my attempt to demystify sexuality by narrating my own, often humiliating adventures in sex, dating, gender identity, etc. and to get everyone to Just. Calm. Down.'
- by Jay Richardson
Published: 27 Mar 2019
What do you think?