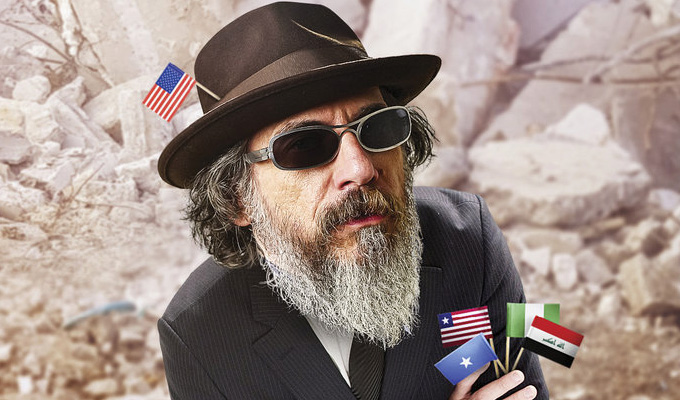 Now THAT's a tough gig...
This week's comedy on demand.
Larry Charles' Dangerous World of Comedy
In this new Netflix series, the writer-producer-director known for his collaborations with Larry David and Sacha Baron Cohen travels to Russia, China, India, Iran, Nigeria, Liberia, Egypt, Turkey, Guatemala and more to see what the comedy scenes are like where free speech is restricted. 'Comedy as a tool of rebuilding, as an instrument of healing and as a weapon of truth,' he believes. 'Comedy is essential to our survival.' Watch here.
Frisky & Mannish Podcast
In this new podcast the duo –aka Laura Corcoran and Matthew Floyd Jones – drink gin and talk about the songs they wrote. That might sound a bit self-indulgent, but certainly in the first episode, LBGTQIA, their fun chat also has a but of substance. Listen on iTunes or Spotify
Poetry Extra: Time For Verse - Spike Milligan
On the off-chance you missed this 1988 show when it was repeated on Radio 4 Extra – at 5am on Monday! – it's now on BBC Sounds. In it,
Spike Milligan
talks about his journey into poetry as well as childhood memories of India, his strict upbringing and his attitude to children and school, whole
Tony Robinson
reads some of his poems. Listen
here
.
Shagged. Married. Annoyed
Chris Ramsey's new podcast with his wife Rosie, recorded in their South Shields living room, launched on Valentine's Day. it coves 'lfe, relationships, arguments, annoyances, parenting and growing up', which doesn't rule a lot out. They say it's the only way they can have a conversation without being interrupted by a toddler or ending up staring at their phones. It's availabe on
iTunes
.
Published: 16 Feb 2019
What do you think?