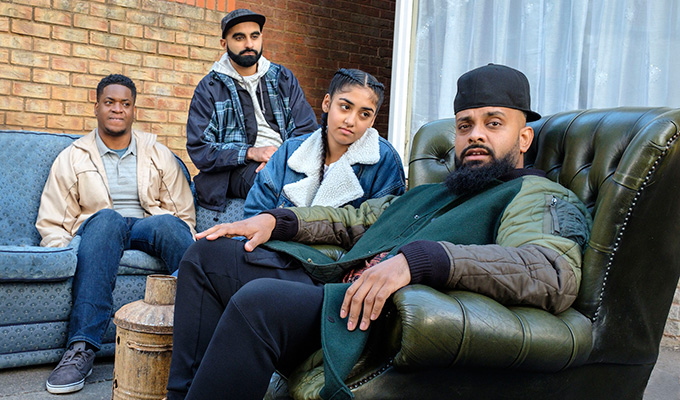 Mobeen's back
This week's comedy on demand.
Man Like Mobeen
The second series of Guz Khan's Man Like Mobeen has just dropped on the BBC Three iPlayer channel. It manages to be ridiculously silly while also a relevant and credible slice of life for a millennial working-class British Asian, with plotlines that encompass knife crime, the state of the NHS and gang culture. Stand-up Tez Ilyas also stars as one of the stupidest characters ever seen on screen. Episode one is on BBC One at 11.45pm tonight, or the full series is online. But why only four episodes?
Soft Border Patrol
BBC Northern Ireland's timely semi-improvised mockumentary about a porous post-Brexit border in the island of Ireland returned for a second series last night, and is now available on iPlayer for the rest of the UK. Stars include Karen Hassan, Neil Delamere, Alan Irwin, Diona Doherty, Elaine Malcolmson and Shane Todd. Watch here.
Ray Romano: Right Here, Around the Corner
After becoming a huge star through Everybody Love Raymond, the comic returns to his stand-up roots at the Comedy Cellar in New York and the nearby Village Underground to record his first comedy special in 23 years. It's gentle, feelgood, slightly old-fashioned stand-up from the point of view of a hapless everyman trying to do his best as a husband and a father. Watch here.
Where Have You Gone, Lou DiMaggio?
Just released on Amazon Prime this endearing documentary from 2017 follows Lou DiMaggio (no relation), who was a jobbing New York comic from1985 to 1989, when he quit stand-up to follow an acting career. Twenty years later he got the bug again and stepped back into the circuit, getting advice from comics such as Larry David, Susie Essman and Colin Quinn who started in the business with him. Watch here.
Political Party
A bit of a coup for Matt Forde as the spin doctor turned comic has landed Tony Blair for a one-off Brexit special edition of his podcast Political Party – the second time the former PM has appeared on the show. The show was released yesterday via iTunes and Spotify… but be warned: it's not aiming to be especially funny. (And also it contains Tony Blair)
Published: 9 Feb 2019
Recent News
What do you think?