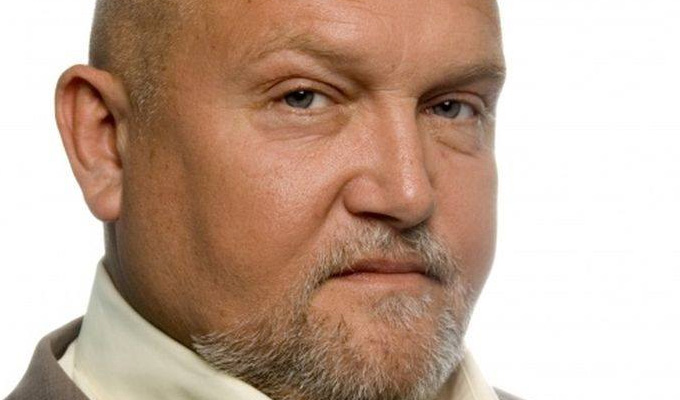 Tributes paid to comic Greg Cook
Comedians are paying tribute to fellow stand-up Greg Cook, after his death was reported on social media.
The comic – who is in his late 50s – is said to died unexpectedly, but details are scant.
He had a chequered career before embarking on comedy in 2002, including bouncer, binman, Blackpool cab driver and pub landlord.
Cook was training as a lawyer before quitting to become a comic, saying: 'Law and comedy are essentially the same gig – telling lies for money. But this way I don't have to wear a tie.'
His career change came after he saw an appeal in Garry Bushell's newspaper column for TV talent hunt Take The Mike.
'I was drunk at the time,' he later recalled in an interview iwht the Manchester Evening News. 'I did some stuff down the phone on the Sunday night and then on the Monday they phoned back and I ended up on stage in the West End on the Thursday.
'When I got there I realised it wasn't for people who had never done stand-up before, it was for stand-ups who had never been on TV, so everybody else had some experience while I didn't'
He quickly became noticed on the circuit with material that sometimes came from a political working-class point of view, but would just as likely be a surreal flight of fantasy or tortured puns.
Cook was a finalist in the 2003 BBC New Comedy Award, won by Rhod Gilbert, and was a finalist in the Leicester Mercury Comedian of the Year and the City Life competition in Manchester, too.
Although BBC head of comedy Jon Plowman described him as 'Les Dawson for the 21st century' – a quote Cook always used in his publicity – he never made a major breakthrough. But he did make has appearances in Citizen Khan, The Jonny And Inel Show and the Ken Loach film Looking For Eric.
His right-wing views often raised eyebrows, and in a 2017 interview railed against political correctness - while claiming that protestors who shut down Breitbart's Milo Yiannopolous had been orchestrated by 'armed thugs paid by George Soros' – the socialist billionaire who is a hate figure among the alt-right.
Comics lined up to pay tribute online.
Blackpool-based Phil Walker said: 'Just heard the sad news that Greg Cook has sadly passed away. I know he had his strong views on religion and I'm not going into that but what I will say is he was always great company and a great comic. I remember one car journey with him back from a gig where he made me laugh so hard I had to pull over for fear of crashing the car! Never had that with another comic before or since. RIP big fella xx"
Tony Kinsella added: 'Thoughts are with those who knew him well. I gigged with him on one of his early appearances in Blackpool when he was still a cabbie doing open mic. Very sad news.
Adam Rushton said: 'RIP Greg Cook. I may not have agreed with your political views and beliefs but you were always a kind and supportive man to me when I was on the circuit'
Chris Brooker posted: 'Sad to hear of the passing of Greg Cook, a man I shared many miles with on the road and an exceptional comedian. I always said he needed to write a book about his life and he'll no doubt take some insane tales with him. Peace be with you my friend.
Dave Twentyman said: ' He wasn't the most popular comedian due to his right-wing views but he'd be the first person to help you should you have needed it. RIP Greg Cook. Was a pleasure to gig with you x'.
Published: 31 Jan 2019
What do you think?