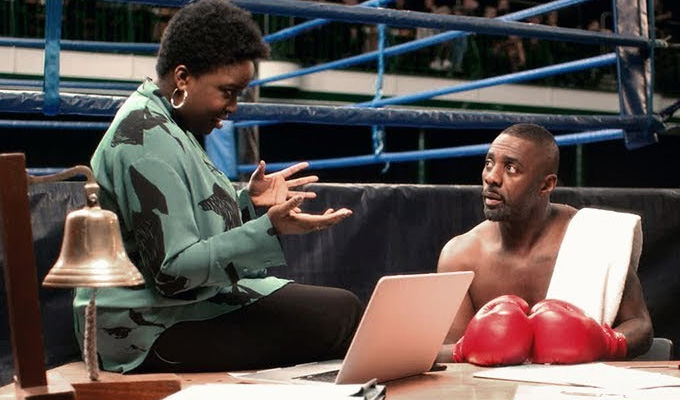 Lolly Adefope stars alongside Idris Elba
Lolly Adefope appears alongside Idris Elba in a new comedy sketch, released as part of a big-budget ad campaign for web hosting company Squarespace.
The Luther star fronts a cinematic-looking new commercial, directed by Being John Malkovich's Spike Jonze, about realising childhood dreams.
But in a spin-off short filmed on the set of the advert, the actor flexes his comedy muscles as he puts together a website for his fashion brand 2HR with the help of a sarcastic assistant, played by Adefope.
During the four-minute skit she relentlessly mocks the actor for his rap ambitions and the fact he apparently won't stop banging on about the fact he was voted 'sexiest man on Earth' – as well undermining his suggestions that he can do comic acting and that he has a big fan base. She appears to be much more obsessed with a rival actor – whose name diplomatically bleeped out – with more muscular.
Jonze also directed the short, based around the idea that building a site on Squarespace is so simple that Elba could do it between takes of the ad without even having to take off the boxing gloves he was wearing for the shoot.
Industry website Ad Age has already praised Adefope's performance, saying: 'As a snarky foil, she may be the campaign's breakout star.'
The main Squarespace campaign will run in the US and internationally. For the past five years, the company has released quirky ads during the Super Bowl, but this year won't be taking an expensive slot in the high-profile game.
Adefope is to be introduced to American TV viewers in the TBS show Miracle Workers, which is due to launch next month. It is workplace comedy set in Heaven, starring Steve Buscemi as God and Daniel Radcliffe as an angel, and Adefope plays God's disgruntled assistant,
She will also appear in the upcoming Hulu comedy Shrill as the best friend of the lead character, played by Saturday Night Live star Aidy Bryant.
In the UK, she previously starred in the Channel 4 social work comedy Damned, web millionaire sitcom Loaded and Sky football comedy Rovers – and has a role in the forthcoming BBC One show This Time With Alan Partridge.
Published: 31 Jan 2019
What do you think?