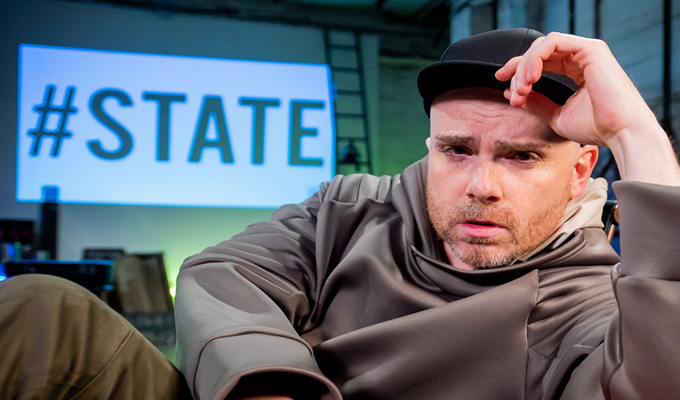 BBC orders comedy shows for its new Scottish channel
The BBC has commissioned a stand-up showcase and a topical comedy show for its new Scottish channel.
It has picked up The Comedy Underground and The State Of It following pilots which aired north of the border in November.
The latter is fronted by Burnistoun's Robert Florence and is described as a mix of 'sketches, satirical animation and topical contributions from a range of new Scottish comic talent'.
It is produced by Glasgow-based The Comedy Unit, which also made Scot Squad.
The pilot of The Comedy Underground was hosted by Ashley Storrie and featured Susan Riddell, Stuart McPherson, Christopher KC, Donald Alexander and Ray Bradshaw. It also featured a radio spin-off featuring backstage chat with the comedians as they stepped off stage.
BBC chiefs previously been announced that the last series of Still Game will premiere on the Scottish channel before being aired across the rest of the UK.
The first episode of series nine will be broadcast on the new channel's launch night, February 24. Co-creator Greg Hemphill said: 'Jack and Victor are a bottle being smashed on the bow of a beautiful ship.'
BBS Scotland today also announced that Catastrophe's Mark Bonnar will star opposite Jamie Sives (Jory Cassel in Game of Thrones) in Guilt, a new four-part drama series written by Bob Servant creator Neil Forsyth. Described as having 'a strong vein of black humour', the show revolves around two brothers who accidentally run over and kill an old man on a darkened street.
The broadcaster's commissioning chief Steve Carson said: 'BBC Scotland will reflect the lives and interests of Scottish audiences on screen.'
The comedy pilots aired as part of a strand called Funny Firsts strand which also included a TV version of long-running radio panel show Breaking The News and Whiplashed, a panel show fronted by Larry Dean. Comics Fern Brady and Jim Smith also fronted iPlayer shows as part of the same season, along with some shorts and sketches.
Published: 22 Jan 2019
What do you think?