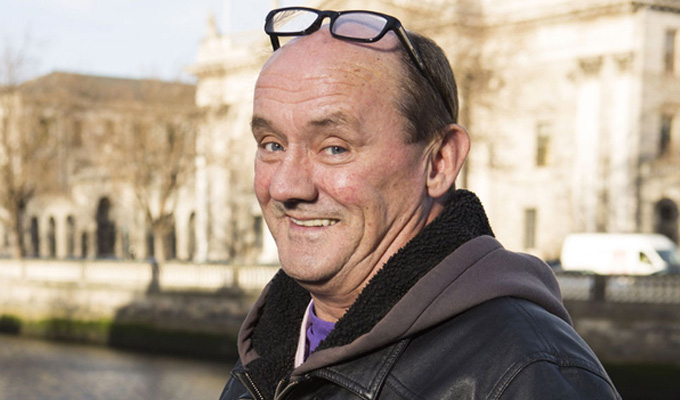 Mrs Brown's Boys creator writes an Army comedy
Mrs Brown's Boys creator Brendan O'Carroll is developing a comedy about Irish army peacekeepers for the BBC.
The comic is currently writing Lebanese Outpost, about troops on active service in Lebanon during the 1980s.
O'Carroll has spoken to a number of veterans for the pilot and says that the Irish Defence Forces have offered assistance.
'I got a lovely letter from the Commandant who looks after press for the Irish army saying they would love to co-operate,' O'Carroll told the Irish Sun.
'I'm delighted because I want to portray the hardship these young men went through and what it was like for these volunteers being so far away from home.'
Chortle understands that the BBC has not formally commissioned the comedy-drama for a pilot. But if a series is greenlit, O'Carroll envisages an episode featuring famous Irish footballers.
He said: 'I have this idea for an episode where there is a football tournament between all the peacekeeping troops from different countries in the Lebanon. Only the Irish smuggle in Robbie Keane and a few of the boys to play for the Irish army team.'
Irish troops have been deployed in Lebanon since the Israeli invasion of 1978, initially to oversee the withdrawal of Israeli forces, with a largely peacekeeping and humanitarian role. More than 400 Irish soldiers are currently serving as part of an Irish-Finnish battalion in the United Nations Interim Force.
Forty-seven troops have lost their lives in the course of the Irish UN mission. But O'Carroll believes their deployment has plenty of comic potential.
'If the Irish Defence Forces guys got fired on, they had to ring up HQ to find out if they could fire back. Sometimes HQ had to ring up Geneva in Switzerland to return fire,' he said.
'I've spoken to so many guys who were in the Lebanon and everyone of them had a funny story and I loved hearing them.'
If commissioned, Lebanese Outpost would be the BBC's third army sitcom in the last decade, following BBC Three's Bluestone 42, about a British bomb disposal detachment in Afghanistan, and Gary: Tank Commander.
Mrs Brown's Boys attracted an audience of 4.7million on Christmas Day. And O'Carroll has revealed that alongside the Lebanese Outpost pilot, he is writing a second movie for Agnes Brown and her brood.
It is being co-written with O'Carroll's son Danny, who plays Buster, and will revolve around his shady character and friendship with Dermot, played by Paddy Houlihan.
The original Mrs Brown's Boys: D'Movie took £23million at the box office in 2014. The live show Mrs Brown D'Musical is also debuting in Glasgow in March. Tour dates.
- by Jay Richardson
Published: 13 Jan 2019
What do you think?