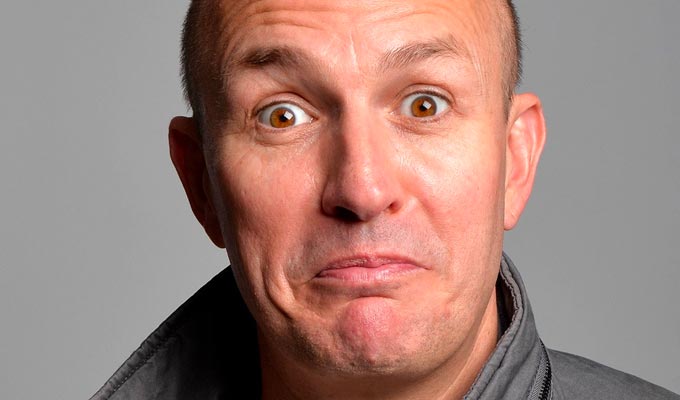 Gorge on a Grand Canyon comedy special
This week's comedy on demand.
Selfies in the Grand Canyon
You may have been too busy watching Mrs Brown's Boys to notice, but Brendon Burns released his eighth stand-up special on Christmas Day.
Shot in black and white ('like a prick,' according to the press release) the show was filmed in a disused nightclub on the final night of his self-promoted Outside The Box tour in 2015, which visited only unconventional venues for stand-up, including a zoo, a comic book store, a fan's house and a primary school gymnasium.
In Selfies In The Grand Canyon, the iconoclastic comic takes on 'the great British sense of humour' and argues how political correctness is actually the new racism. And how this – and the selfie – may have ruined his beloved artform forever.
Swimming With Men
Now on Neflix, this movie stars Rob Brydon as accountant Eric, who is undergoing a full-blown mid-life crisis. So he joins an all-male group of synchronised swimmers – like you do.
Writer Aschlin Ditta apparently based this amiable if lightweight film on the 2010 documentary Men Who Swim, about a real-life team of middle-aged Swedes who took to the water.
Watch here, or get a sample from this trailer:
Vlogmare
Comic Marek Larwood crowdfunded this 30-minute film, at a cost of precisely £809.91. A comic psychological thriller based the dark side of vlogging, he also stars in the short, alongside fellow comedian Simon Feilder.
Paul F Taylor: Pick Of The Litter
This week's offering from stand-up-on-demand subscription service NextUp comes from offbeat comic Paul F Taylor. The silly show is described as blending 'daft character comedy, animal impersonations, and surreal story-telling'. Indeed, he likens his comedy to the middle aisle of Lidl 'because there's a lot of weird shit in it.'
Watch here
Damo & Ivor: The Movie
This is what The Young Offenders could have been… had the Young Offenders not been any good.
In this Irish movie, originally released in March and now available on NetflixAndy Quirk – the son of a millionaire businessman – mocks the working class by playing a pair of loud-mouthed Dublin Twins, reunited after being separated at birth, embarks on a road trip to search for their third, missing sibling.
We'll leave the verdict to critic Katy Hayes of the Sunday Times, who said: 'The characterisation is shallow, the class stereotyping idiotic, and the masturbation jokes never-ending, but these are not even the worst aspects of the film.'
Published: 29 Dec 2018
What do you think?