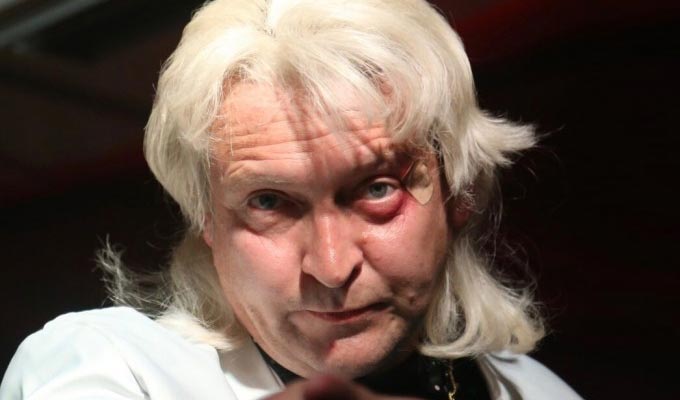 A happy medium...
This week's comedy on demand.
Clinton Baptiste's Paranormal Podcast
You may know clairvoyant Clinton Baptiste from Phoenix Nights. Well, the psychic alter-ego of Alex Lowe – the man also behind Barry From Watford – also has a new paranormal podcast, when he's joined by guests from the world of the occult, the supernatural, and general ghostly areas. Subscribe here
Joz & Ed's DaVinci Code Type Thing
Joz Norris and Ed Aczel are making a series of short films undermining the tropes of various film genres, with this one taking a more prosaic approach to complex Dan Brown-style mystery thrillers.
It's directed by Paul Bertellotti and co-stars Isy Suttie, Ricky Grover, Ali Brice and Alison Thea-Skot.
Next year the pair will be following it up with their take on the heist genre, with Michael Stranney, Lucy Pearman and Ben Target. But here they get to grips with the illuminati mystery hinted at by he design of the ten-pound note:
Ellen DeGeneres: Relatable
Another comedian lured out of retirement by Netflix. In her first stand-up special since 2003, the comic turned talk show queen revisits her road to stardom, and wonders if she's still relatable for her fans. Watch here.
Richard Pryor: Omit The Logic
This 2013 documentary is newly available again on iPlayer. It chronicles Pryor's life from his troubled youth in Peoria, Illinois, to his meteoric rise as one of the most respected comedians of the 20th century. It had mixed reviews, but anything featuring Pryor footage can't be all bad. Watch here.
Lost Voice Guy: Inspiration Porn
The last Edinburgh show from Britain's Got Talent winner Lee Ridley has just been released on Audible, with the comic talking via his iPad about the perception of disability in the media, government cuts, and the painful reality of dating. The release also includes Ross Noble conducting an interview with Ridley, with the pair having been friend since Noble challenged him on who could do the best impersonation of Stephen Hawking. The special costs £12.99 to buy, or is free to Audible subscribers.
Kidding Me: Comedian Parents
A new podcast in which Jo Bor chats to comedians who are also parents to find out what it's like juggling the two. The first two episodes feature Adam Bloom and Kerry Godliman, while future guests include Ben Norris, who has triplets, Josh Howie,who has five kids, and Dave Fulton, who has just adopted a child. Subscribe here.
Published: 22 Dec 2018
What do you think?