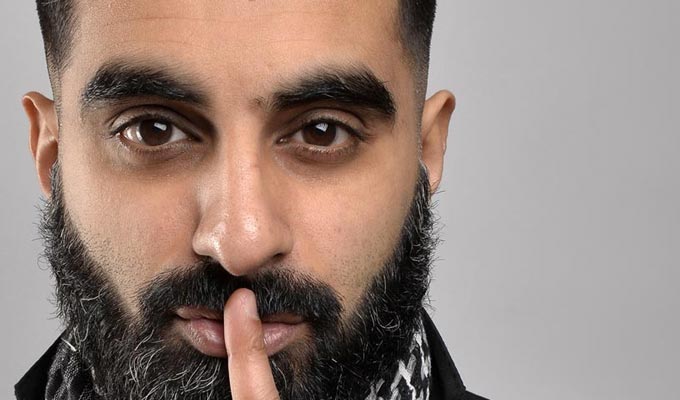 Channel 4 releases a new batch of Blaps
Channel 4 has just released its latest round of comedy Blaps featuring stand-up Tez Ilyas, Edinburgh-award winning Rose Matafeo and Nida Manzoor, who made Enterprice for the BBC.
Matafeo and Manzoor's shows were announced this summer, now Ilyas's has been added to the mix.
In Bounty, the comic plays Terry, a young British Muslim who was a London corporate high-flyer who has moved back with his family in Blackburn to take on the risky Blackburn Community Cohesion Project. And he hates it.
His mum is convinced she knows what's best for him, his Insta-obsessed younger sister, Sofia resents him and her buffoonish husband-to-be, Abid, irritates the heck out of him.
The one-off show reunites Ilyaz with Guz Khan, as they appeared together in Man Like Mobeen, and also stars comedians Sindhu Vee and Aatif Nawaz as well as Ashna Rabheru. It is loosely autobiographical as Ilyas has recently returned to his Blackburn hometown himself.
The title Bounty has a racial connotation, as it is sometimes used as an insult for someone dark on the outside but white on the inside, like the chocolate.
Ilyas, who also wrote the show said: 'OMA! [Oh my Allah!]. I can't believe that Channel 4 and production company Big Talk have trusted me with a Blap.
'Bounty is the story of pretentious hipster Terry and the immediate challenge he faces after moving back to his hometown, Blackburn.
'I hope people enjoy this as much as we did making it because I have so many more hilarious personal stories to tell and such a rich subculture to explore, which I'd love to show the wider world."
Rose Matafeo: Temp is a three-part series about a transient temp worker and co-stars Joe Wilkinson, Ellie White, Vivian Acheampong and Gabby Best.
New Zealander Matafeo said: 'It was a thrill to convince such a talented group of comedians to help play out an offbeat fantasy of temp life in these Blaps. Hopefully, these little vignette-ish glimpses into the high drama of low stakes office life make some of you laugh.'
Finally, Manzoor's Blap is a comedy following a Muslim female punk band called Lady Parts.
Anjana Vasan plays Amina Hussein, a geeky biochemical engineering student who by Saira Shah (Ritu Arya), the enigmatic, tattooed frontwoman of Lady Parts is trying to recruit to her band.
Manzoor said: 'Making Lady Parts meant so much to me as it enabled me to show Muslim women for all the humour, diversity and strength they possess – rarely depicted this way in mainstream media.
'I loved making Lady Parts, as we were able to bring together an awesome ensemble cast as well as a crew of brilliant creatives, giving the show a distinct look and tone.
'Also, I was able to collaborate with my brothers and sister in making original music for the show, which was crazy fun and adds to the character of the piece.'
Channel 4's Blaps have been the launching ground for shows including Chewing Gum, GameFace, Stath Lets Flats, High & Dry and Lee and Dean.
Watch all the new batch of Blaps here.
- by Jay Richardson
Production credits
Bounty is directed by George Kane. The producer is Lara Singer. Executive producers are Saurabh Kakkar and Kenton Allen. It is a Big Talk Production.
Rose Matafeo: Temp is an Avalon production, R written by Rose Matafeo, produced by Tom Miller, directed by Al Campbell and executive produced by Rob Aslett, Richard Allen-Turner and Jon Thoday.
Lady Parts is written and directed by Nida Manzoor. It is a WTTV production with executive producers are Mark Freeland and Surian Fletcher-Jones.
The Channel 4 Blaps are commissioned by Fiona McDermott, Head of Channel 4 Comedy and commissioning executive Laura Riseam.
Published: 21 Dec 2018
What do you think?