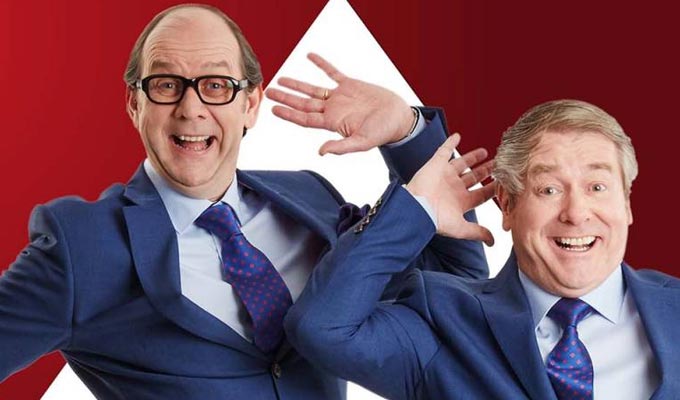 Bringing you sunshine at Christmas
The best of the week's live comedy.
Monday December 17
LONDON: It's the final of the new comedian of the year competition run by Leicester Square Theatre. Vying for the 2018 title are: Calum Stewart, Charlie George, Charlie Hopkinson, Darran Griffiths, Davina Bentley, Hubert Mayr, Jess Bray, Mad Ron, Mamoun Elagab, Martin Durchov, Matt Hutchinson, Sam Lake, Toussaint Douglass, William Stone, Yumna Mohamed.
LONDON: Suspiciously Cheap Comedy, the new material night run by sketch outfit Gein's Family Giftshop upgrades to a proper West End venue for a charity spectacular at the Fortune Theatre. Kiri Pritchard-McLean hosts with Russell Howard headlining alongside Phil Wang, Sindhu Vee, Lazy Susan and Goose. Tickets.
Tuesday December 18
SALFORD: Morecambe and Wise are intrinsically linked with Christmas, and Jonty Stephens and Ian Ashpitel, bring the duo back to life with their affectionate tribute act, which takes over the Lowry Theatre from now until January 6. An Evening of Eric & Ern At Christmas features the pair's most-loved routines, songs and sketches, as well as a musical guest. The estates of Morecambe & Wise have given Stephens and Ashpitel, their blessing, and have authorisi the script.

LONDON: One of the most fun shows from this year's Edinburgh Fringe comes to the Soho Theatre for a month. Ciarán Dowd rightly won the best newcomer at the festival for his rambuctious performance of legendary swordsman Don Rodolfo, in an exuberantly performed show ram-packed full of daft gags and dubious accents. Read our review from Edinburgh here and get tickets here
Wednesday December 19
LONDON: John Kearns and Pat Cahill bring their awarkward everyday quirkiness to the Battersea Arts Centre for two Christmas specials tonight and tomorrow.
Thursday December 20
SHEFFIELD: That other ebullient housewife superstar, Barbara Nice, hosts a good old fashioned festive extravaganza at the Leadmill tonight, promising a good time to be had by all who get into the party spirit. Tickets.
LONDON: Mark Watson hosts another of his regular 'Wangabouts' at the Crouch End arts centre, with Felicity Ward (whose solo show Busting A Nut also comes recommended at the Soho Theatre this week) Mark Simmons, Sonja Doubleday and Helen Bauer sharing the bill.
Friday December 21
CHESTERFIELD: There's a strong and varied night at the Mecca tonight, with the hilariously inappropriate TanyaLee Davis, millennial storyteller Lauren Pattison, Britain's Got Talent musical comedian Micky P Kerr and the gregarious Barry Dodds.
LONDON: Club comedy doesn't get much better than this line-up at Up The Creek tonight, with sharp-edged Andrew Maxwell, provocative Fin Taylor and whip-smart Adam Bloom
• Search our full listings for comedy near you using the pull-down menus on the left of this page.
Published: 16 Dec 2018
What do you think?