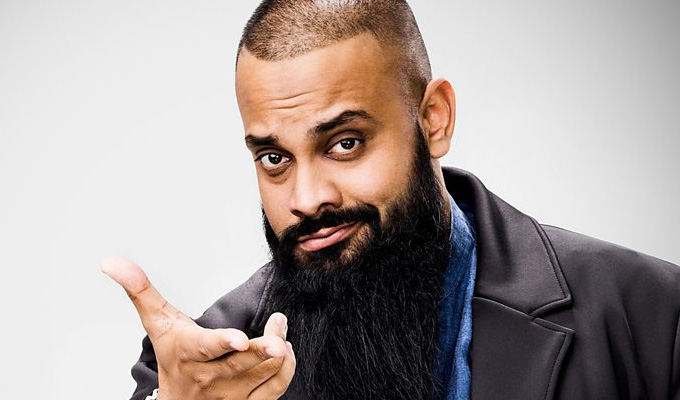 Guz Khan joins Four Weddings
Guz Khan has landed a role in the American TV series based on Four Weddings And A Funeral.
The Man Like Mobeen comic will play a character called Basheer in the series being made for the Hulu on-demand service, but little else is known of his role.
Last week it was announced that Andie MacDowell, who starred opposed Hugh Grant in the original 1994 movie, would be also appearing in the series, playing the mother of one of the central characters.
The new series revolves around four American friends – played by Nathalie Emmanuel, Brandon Mychal Smith, Rebecca Rittenhouse and John Reynolds – who reunite for a fabulous London wedding.
But the official blurb for the show says: 'After a bombshell at the altar throws their lives into turmoil, they must weather a tumultuous year of romance and heartbreak. Relationships are forged and broken, political scandals exposed, London social life lampooned, love affairs ignited and doused, and of course, there are four weddings… and a funeral.'
Mindy Kaling, of The Office and The Mindy Project, is rebooting Richard Curtis's film with a multi-cultural cast and writing team – which includes British comics Bisha K Ali and Phoebe Walsh.
Kaling has said her version 'is not an adaptation telling the same story' but a different take on the concept.
She said: 'What I love about the movie is the rapport between the friends, the Richard Curtis tone, the relatability of weddings, and seeing the heartbreak of one of the friends dying and the group rally for each other.'
Although the writing team is based in Los Angeles, the 12-part series will be shot in London.
Published: 28 Nov 2018
What do you think?