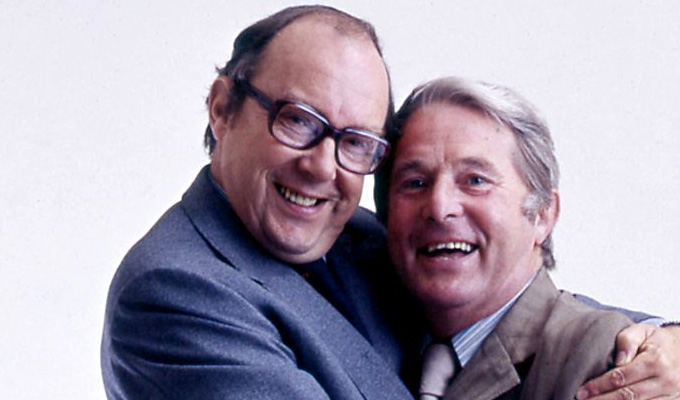 When Morecambe and Wise tried to crack America
Jonathan Ross is to present a three-part documentary charting Morecambe and Wise's attempts to crack America.
The series for the Gold channel will feature more than an hour of footage that has never previously been seen in the UK.
Ross said: 'As a fan of both Morecambe & Wise and vintage American TV, it's been a real joy to discover all this footage of their performances in the States in the Sixties.
'I'm looking forward to telling the story for Gold's viewers of how Eric and Ernie's work in America became a tantalising foretaste of their very best shows here in Britain.'
Over the course of five years in the 1960s, Eric Morecambe and Ernie Wise made several trips to New York to appear on the USA's biggest variety show, The Ed Sullivan Show – also credited with helping The Beatles 'crack' America.
However they never did make it, to the disappointment of Ernie – although Eric was more sanguine, not wanting to change his material to fit the US audience and wary of investing energy into a foreign adventure rather than nurturing the audience at home.
Morecambe & Wise in America will feature contributions from family and colleagues as well as some of the guest stars who worked with them including Glenda Jackson, Nicholas Parsons, Millicent Martin and Dame Diana Rigg.
The series also includes Morecambe & Wise's first appearances on television in colour.
Executive producer Mark Wells said: 'The footage of Morecambe & Wise working on American television in the Sixties is fascinating, because to begin with the audiences don't quite know what to make of them.
'But Eric and Ernie established themselves very quickly, and performed some wonderful routines that British viewers will never have had the chance to savour before.'
Gerald Casey, Gold channel director, said, "The discovery of this footage amounts to a treasure chest of essential new material for any comedy fan. We hope Gold viewers will be as enthralled by the on-stage routines and off-stage revelations in these shows as we have been.
Morecambe & Wise in America will air on Gold in December.
The broadcaster previously commissioned Bring Me Morecambe and Wise, which aired in 2012 also featured previously unseen footage of the duo.
Production credits.
Commissioned by: Joe McVey, Richard Watsham, and Steve North
Produced by: Double Yellow in association with Sofa Entertainment
Executive producers: Mark Wells of Double Yellow and Andrew Solt of Sofa
Published: 23 Oct 2018
What do you think?