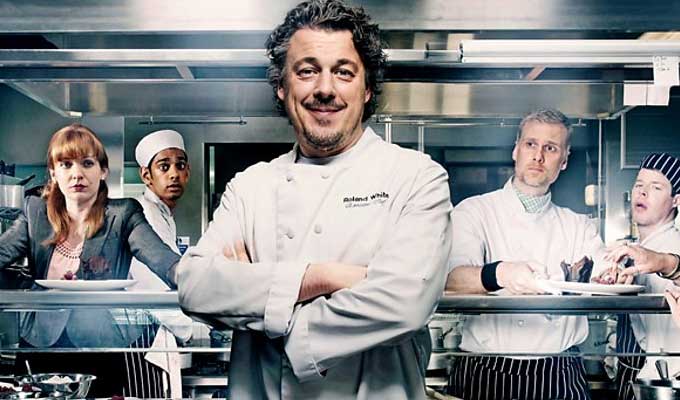 Whites to get a US remake
America is set to remake Whites, the short-lived restaurant-based comedy starring Alan Davies.
Veteran sitcom writer Matt Tarses, whose credits include Scrubs and The Goldbergs, is working on a new script, based on the show that ran on BBC Two for just six episodes in 2010.
Will Arnett's Electric Avenue production company is working on the show for the NBC network, according to the Hollywood Reporter.
The original series was written by Oliver Lansley and Matt King, best known for playing Super Hans in Peep Show, who will both be executive producers on the remake.
The show will now be set in upstate New York where Roland White, a 'disgraced wunderkind of the New York culinary scene' runs a restaurant.
However, the traditionalist is challenged by a new pastry chef, Emily, who NBC described 'gluten-free, farm to table and gender-neutral-pronoun-using as anyone on the planet.'
King said he based the original show on his experiences working in restaurants, saying: 'Roland is a composite of several chefs I know who can't be bothered any more. They've kind of missed the boat, missed out on Michelin stars and cruise along.'
The original also starred Darren Boyd, Katherine Parkinson and Isy Suttie, but casting on the remake is yet to be announced.
Although it brought it higher-than-average ratings for BBC Two, the £500,000-an-episode cost reportedly proved too much for the Corporation.
Published: 10 Oct 2018
What do you think?