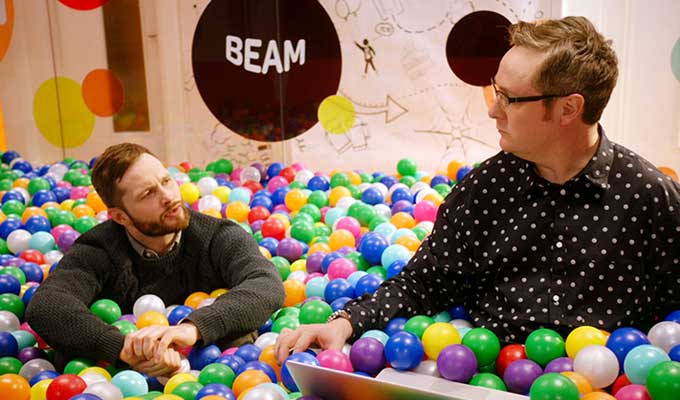 Pls Watch
This week's comedy on demand.
Pls Like
Liam Williams's take on the world of social media returns for a second series, now that some of the darker side of the online world suggested by the first season has very much come to the fore in the real world.
After a series of scandals involving high-profile vloggers, the premise is that the BBC is now backing The Likeys, new awards designed to highlight positivity in the online community. Dubious talent manager James Wirm (Tim Key) has recruited the king of the virals DumpGhost (Tom Stourton) to co-host with the Zoella-like Millipede (Emma Sidi), and he's got so many followers nothing could possibly go wrong.
Given such scandals as those involving PewDiePie and Logan Paul, this look at the dark underbelly beneath the seemingly devil-may-care world of internet stars, seems ever so timely and relevant. Not to mention dryly funny. Watch here.
The Good Place
Season three of the most inventive high-concept comedy around has just launched on NBC in the States, with episodes arriving on Netflix here immediately afterwards.
The ever-inventive series starts with Kristen Bell's self-absorbed Eleanor Shellstrop – who had previously arrived in an apparently heavenly community after her death thanks to an administrative error – returned back to Earth with familiar faces such as Ted Danson's novice demon Michael. Though given how much this playful series twists and turns, whatever happens by the season's end is anyone's guess.
As always the show is jam-packed full of delicious detail amid the bold plotting, in a similar way to Arrested Development in its prime. If you're already a viewer, you will probably need no further prompt to watch episode one here. But if you know nothing of it, go back and watch from the start – you're in for an always-unpredictable treat.
Jack Whitehall: Travels with My Father
Last year, the comedian and his fusty, old-fashioned father Michael embarked on a South East Asian odyssey, fulfilling Jack's dream of a gap year. In the newly arrived season two they travel closer to home with a road trip around Europe - 'the continent [dad] famously voted to leave,' as Jack wryly points out.
In contrast to season one, this time it's Michael calling the shots on what they do. Watch here. And here is a trailer:
Sean & Elliot Read The Bible
In what they admit is a 'ridiculously ambitious' project, Sean McCloughlin and Eliot J Fallows commit to reading and discussing probably the most important book ever written, even if they believe it may be the 'batshit ravings of a psychopath'.
However, the podcast is likely to run even longer than necessary given they are prone to digressions. They spend as much of he first episode discussing a befuddled Italian traveller McLoughlin helped on a Gatwick-bound train that it does of the creation of the heavens and the Earth.
The pair's previous offering, Heal Your Wounds. was nominated for a Chortle Award. This one is going to be 'a real drain on our lives,' they confess. Don't let them suffer alone – listen here
Eugene Mirman: Vegan On His Way To The Complain Store
The 2015 stand-up special from the Russian-born, Brooklyn-based comedian, best known for voicing Gene Belcher on Bob's Burgers, has come to Netflix. He's been described as 'the consummate goofball' and this show is a mix of off-kilter observations and show-and-tell-style set pieces. Watch here.
Published: 29 Sep 2018
Recent News
What do you think?