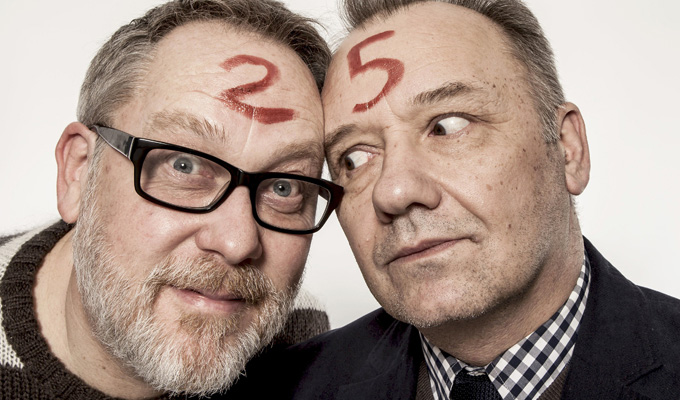 Reeves & Mortimer & Michael Jackson's glove
Vic Reeves and Bob Mortimer are making a movie about two best friends in search of Michael Jackson's white glove.
In the film they will play childhood friends who own a failing junk shop. And when they struggle to pay the rent, their obnoxious landlord gives them an alternative to eviction: to secure him the mythical glove.
The ensuing plot is described as 'a madcap road movie across Britain as they enter the world of strange collectables and celebrity memorabilia'.
Reeves and Mortimer wrote the screenplay for The Glove a decade ago and it is now being developed by production company StudioPOW, set up by Funny Cow producer Kevin Proctor an business partner Perry Trevers.
The company says: ' We are hugely excited at the potential of this laugh out loud comedy. We already know that it will be packed full of legendary comics and actors.'
Big Night Out director Mat Whitecross is attached to helm the movie, expected to start filming next year.
Meanwhile, Reeves is also starring in StudioPOW's Disco Pier, about a 1970s disco dancin' championships. He and his wife, Nancy Sorrell, will play members of a rival dance team in the movie, again due to be filmed next year.
• Mortimer has today settled a phone-hacking claim against Sun and News of the World publishers News Group Newspapers. He was among 16 celebrities, also including Les Dennis, Frank Bruno and Kym Marsh, to have come to an agreement at the High Court. Reeves settled his similar case just before it went to court earlier this year.
Published: 27 Sep 2018
What do you think?